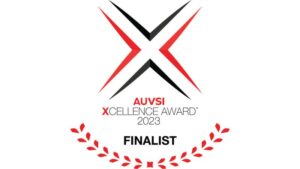 The Association for Uncrewed Vehicles Systems International (AUVSI) has named Elsight as a finalist in the 2023 XCELLENCE Awards.
The company was selected from a pool of accomplished applicants as one of several finalists in the XCELLENCE IN TECHNOLOGY category for its Halo platform.
Elsight's Halo is a drone connectivity platform that delivers absolute connection confidence globally, even in areas with little reception.
Coupled with Elsight's patented 6th Sense AI technology, Halo is the first AI-powered connectivity solution for unmanned vehicles, guaranteeing constant uptime and connection between drones and ground control stations.
Halo provides both LTE and 5G support with a modular, carrier agnostic, AI-powered connectivity platform, delivering reliable connectivity at any location and at any time.
"We are excited to be announced as finalists for the AUVSI XCELLENCE Awards," said Yoav Amitai, CEO of Elsight. "Connectivity is the foundation for true BVLOS operations, and the Halo has enabled over 50,000 flight hours of seamless unmanned operations with Elsight's partners across the globe, and will continue to provide unparalleled connection confidence for unmanned air and ground systems."
AUVSI's XCELLENCE Awards honor innovators with a demonstrated commitment to advancing autonomy, leading and promoting safe adoption of uncrewed systems and developing programs that use these technologies to save lives and improve the human condition.
Winners will be announced at XPONENTIAL 2023, May 8-11 at the Colorado Convention Center in Denver, CO.
"This year, XPONENTIAL is all about designing a shared plan for the future of autonomy," said Brian Wynne, President and CEO of AUVSI. "There's no better place to announce the 2023 XCELLENCE award finalists. Together, they are redefining what's possible with uncrewed and robotic technology."