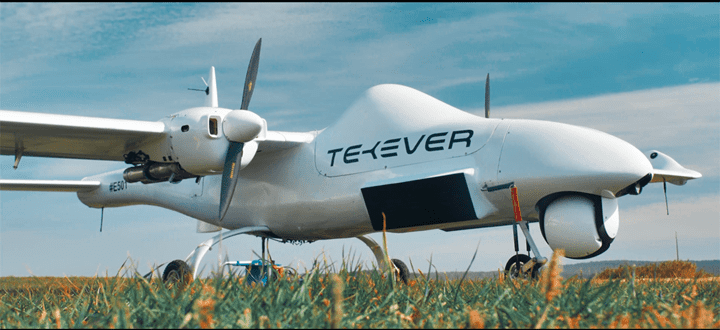 TEKEVER has successfully added the GAMASAR Synthetic Aperture Radar (SAR) to its AR5 UAS to support aerial and space-based Earth observation.
Developed by TEKEVER's Space division, GAMASAR has the ability to detect different types of objects in all weather conditions to aid with maritime and land-based wide-area surveillance missions.
The integration of SAR payloads typically imposes a significant tradeoff in operational capabilities, especially in smaller UAS platforms. By having an integrated design approach between GAMASAR and its UAS product-lines, and having an extremely deep level of integration between the sensor, the platform and the rest of its sensors, TEKEVER is now able to offer unprecedented capabilities for both AR3 and AR5 in their respective UAS classes.
By adding GAMASAR to its payload package, the TEKEVER AR5 can now offer users an increased operational performance, and the ability to effectively detect targets under any weather condition, day and night, over extremely wide areas.
TEKEVER believes the combined usage of Ka/Ku Band SATCOM, capable of delivering more than 4Mbits in BRLOS, and GAMASAR, with up to 40km dual-side looking detection range, makes the AR5 an extremely effective tool for any type of wide-area surveillance mission.
With an MTOW below 200kg, and more than 12h of operational endurance, the TEKEVER AR5 is believed to be the most advanced system in its class, and can provide customers around the world with a highly mobile, simple to use and cost effective tool to help deliver their mission.
Besides being already fully integrated on both the AR3 and AR5 platforms, TEKEVER's Space division is also developing GAMASAR versions to support micro-satellite constellations. By applying advanced AI capabilities to fused Space and UAS-based SAR data, TEKEVER believes it can provide customers with a deeper and more comprehensive understanding of all activities being performed in their regions of interest.
"Our SAR, which we decided to name GAMASAR in honor of the Portuguese navigator Vasco da Gama, was designed and built to enable our customers with the capabilities that are typically only available through much larger systems," said TEKEVER's CEO, Ricardo Mendes. "With an extremely reduced logistics footprint and the unique capabilities provided by GAMASAR, the AR5 is a game-changer that provides our customers with tremendous value and cost effectiveness."