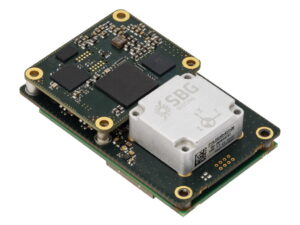 SBG Systems has introduced the Quanta Plus, a next-generation GNSS-aided inertial navigation system (INS) in an OEM form factor. The compact and lightweight system combines a tactical-grade MEMS IMU with a high-performance GNSS receiver to deliver reliable position and attitude data even in GNSS-denied environments. Quanta Plus can be easily integrated with LiDAR or other third-party sensors in UAV (unmanned aerial vehicle)-based survey systems.
The system includes a wide range of features that make it easy to use and to customize for a variety of applications. Motion profiles allow users to optimize the sensor parameters to suit different use cases, while the built-in PTP server (Precise Time Protocol) ensures sub-microsecond synchronization with external devices such as LiDAR (legacy PPS synchro is still available). Additionally, Quanta Plus features a built-in datalogger, ethernet interface for seamless integration, and a user-friendly web configuration UI for simple setup and control.
Quanta Plus also benefits from easy integration within Qinertia, SBG Systems' state-of-the-art post-processing software. Qinertia improves the performance of data acquired during a mission using reliable RTK corrections from a wide range of CORS networks, or by importing base station data during the process. It also improves accuracy of the position and attitude using forward and backward processing and by integrating a tight coupling between GNSS and IMU data.
Qinertia also supports virtual base stations to support large-scale corridor mapping and mobile mapping applications. Specific solutions are available for integrators and OEMs who want to use Qinertia as a component in their data-processing products and workflows.