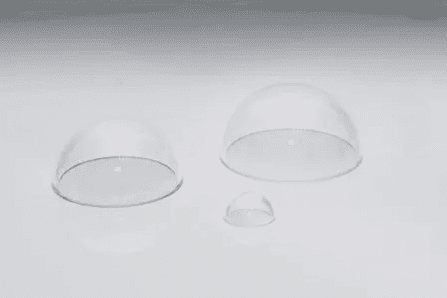 Optical component supplier Knight Optical has added more dimensions and a flange option to its range of Acrylic Domes.
Complementing its stock range of UV Fused Silica and BK7 (or equivalent) varieties, Knight Optical's custom-made Acrylic Dome offering now includes a wider range of sizes.
Available from 30mm all the way up to 2m, this new offering provides Knight Optical customers with an even greater choice when it comes to tailoring their optics.
In addition to larger dimensions, Knight Optical's Acrylic Domes also now come with the choice of adding a flange, making mounting easier for end applications.
"Our new Acrylic Dome offering comes as welcome news to our already-thriving base of global customers working in the subsea sector. Furthermore, these new dimensions and flange option appeal to a fresh cluster of new businesses looking for premium quality solutions," said Colin Overton, CEO of Knight Optical. "It couldn't be a more exciting time to be working in the subsea field, and we're looking forward to working with manufacturers, engineers, and designers on next generation, pioneering underwater devices. It's an industry we've played a part in for a long time, and the innovations that arise from this sector never cease to amaze myself and the team at Knight Optical."
As a supplier of ultra-precision Optical Domes for high-pressure underwater viewport applications, Knight Optical works closely with manufacturers, engineers, and designers of Remotely Operated Vehicles (ROVs), Autonomous Underwater Vehicles (AUVs), underwater LiDAR and other submersible systems and devices.