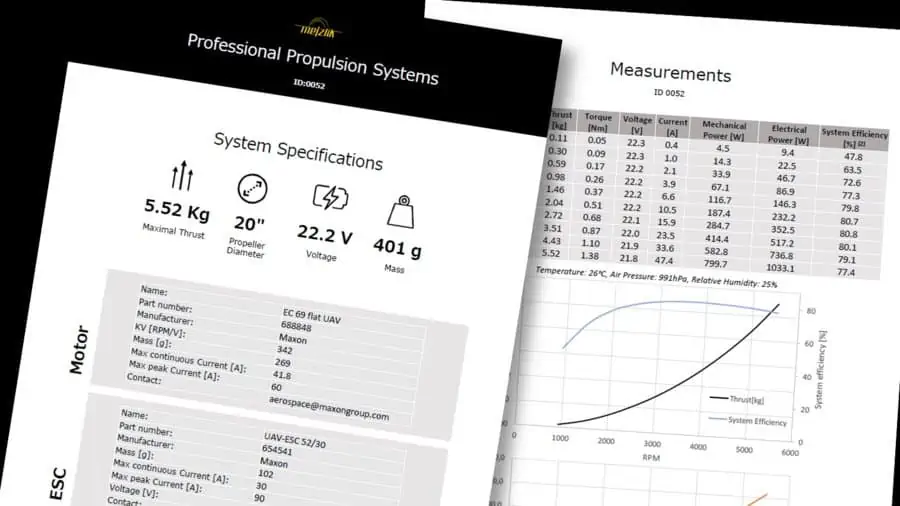 Mejzlik Propellers has launched the Professional Propulsion Systems (PPS) project, an online database that provides customers with the information they need to purchase, fine-tune or build a UAV (unmanned aerial vehicle) propulsion system according to their particular needs.
Click here to browse the database on Mejzlik's website
Drone propulsion systems are made up of various elements, and as Mejzlik focuses on propellers, the company has formed partnerships with leading motor and controller manufacturers around the world. The main database consists of a wide range of measured configurations of available products, which were tested under monitored conditions and using the same testing procedure. Each propulsion system is represented by a datasheet that describes every single component and static performance of the system. This datasheet is supported by a performance data file for further analysis.
Marco Sicher, Business Development Manager Aerospace at maxon, commented: "Reliable and properly measured propulsion system data is absolutely crucial for our customers but also for us. It's the baseline to select the right propulsion setup for highly demanding platforms. Having our products measured at maxon but also independently by our partner Mejzlik provides additional confidence in the data."
The data helps users to choose the right propulsion system for a particular drone platform, and provides a baseline for further development. Watch a video tutorial on how to use the database below: