Mejzlik Propellers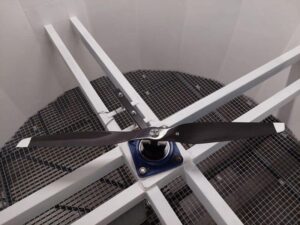 has taken delivery of a new custom made test rig – the BFG-1.
The 110 kW overspin test rig is able to spin propellers up to 2.9m in diameter at speeds between 500-9000 rotations per minute.
Taking UAV propeller testing to the next level, the BFG-1 test rig was custom made for Mejzlik in order to offer testing compatible with NATO, EASA and FAA certification standards.
The newest addition to the Mejzlik Test Lab, the BFG-1 is being used to
perform 50-hours endurance , overspin , overtorque and tip deflection tests.
Mejzlik offer quality assurance and additional testing depending on requirements, employing static in-house testing rigs to measure propeller thrust from 50 grams up to 300kg. Reports include; values of thrust, torque, rpm, voltage, current, mechanical and electrical power, efficiency of propeller/motor/setup and ambient conditions.