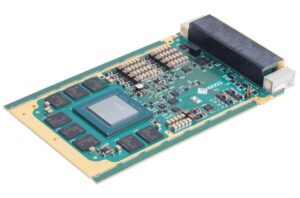 EIZO Rugged Solutions has introduced the Condor GR5S-RTX5000, a rugged OpenVPX 3U form factor graphics and GPGPU card based around the discrete NVIDIA Quadro RTX 5000 GPU. The card's configuration is aligned with the Sensor Open Systems Architecture (SOSA) technical standard.
Featuring NVIDIA Turing architecture, the Condor GR5S-RTX5000 delivers high-performance GPGPU processing with AI capabilities for rapid detection and response to threats. The new board is designed for latency-sensitive applications including UAV (unmanned aerial vehicle) ISR, degraded visual environments (DVE), digital signal processing (DSP), electronic warfare (EW), and signals intelligence (SIGINT).
The Condor GR5S-RTX5000 offers up to 9.4 TFLOPs of FP32 floating-point performance with 16 GB GDDR6 memory and 48 RT ray-tracing cores for real-time rendering of photorealistic objects, and 384 tensor cores for deep learning training. With 3072 CUDA cores for parallel processing, the GPGPU card also supports advanced shading technologies such as Mesh, Texture, and Variable Rate Shading. The card supports SOSA x8 and x16 PCIe configurations and non-SOSA configurations supporting DisplayPort/DVI video outputs.
The rugged Condor GR5S-RTX5000 delivers real-time throughput for encoding applications with a dedicated H.264 and H.265 encode engine (NVENC) and a dedicated decoding core for playback (NVDEC), supporting an unrestricted number of encoding sessions with a performance throughput, verified in house, of 24x concurrent 1080p30 sessions at default power settings. The product meets strict data integrity requirements for mission-critical applications with uncompromised computing accuracy and reliability.
Like all of EIZO Rugged Solutions' VPX cards, the Condor GR5S-RTX5000 is MIL-STD-810 compliant and is designed to meet military and aerospace specifications for temperature, shock, vibration, and power.
John Payne, Senior Product Manager at EIZO, commented: "We are excited to be releasing an additional SOSA-aligned solution to the 3U form factor market as we are committed to designing products that support the SOSA and OpenVPX standard. The Condor GR5S-RTX5000 is a powerful GPU-based video graphics processing solution with open architecture design configurations to promote product interoperability, reduce risk, and simplify system integrations."