EIZO Rugged Solutions, a leading developer of commercial off-the-shelf (COTS) solutions for video and sensor data capturing and processing, as well as GPGPU computing, has partnered with Unmanned Systems Technology ("UST") to demonstrate their expertise in this field. The 'Gold' profile highlights how their highly reliable, long life cycle products can be used in a wide range of unmanned systems, such as UAVs (unmanned aerial vehicles), UGVs (unmanned ground vehicles) and USVs (unmanned surface vessels).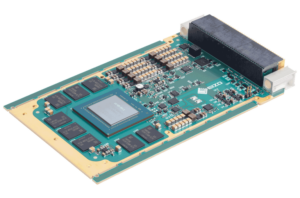 EIZO is an NVIDIA Preferred Partner, providing state-of-the-art GPU technology for mission-critical real-time unmanned systems and robotics applications with unique access to the highest levels of technical support.
Based around NVIDIA Quadro GPUs with Pascal and Turing architecture, EIZO's Condor GPGPU and video capture cards deliver powerful data processing capabilities for video stabilization, image processing, terrain analysis, object tracking, and 3D visualization, as well as machine learning and artificial intelligence.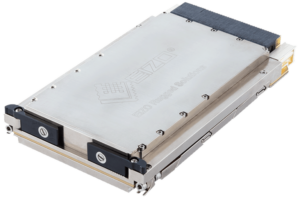 EIZO offers a range of rugged 3U VPX form factor GPU processing cards for high-performance unmanned systems applications such as image analysis, image enhancement, 360° video stitching, and sensor fusion. All 3U VPX solutions support CUDA and OpenCL and are customizable with a variety of I/O configurations.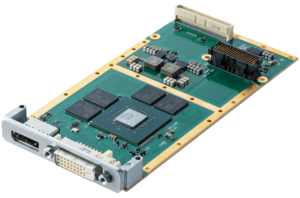 EIZO provides a variety of rugged XMC form factor graphics and video capture cards that can be seamlessly integrated into drones and unmanned systems. Delivering the highest performance for demanding military and aerospace applications, the XMC solutions support CUDA and OpenCL and are customizable with a variety of I/O configurations.
The company has developed a wide range of embedded cards and products for high-reliability, extreme low-latency video and data acquisition, recording and streaming. The low-SWaP products are available in XMC, VPX, or PCIe form factors and can handle a variety of video formats.
In addition to being an NVIDIA Preferred Partner, EIZO is also an AMD Embedded Partner, providing AMD Radeon-based solutions for graphics-intensive defense and aerospace applications.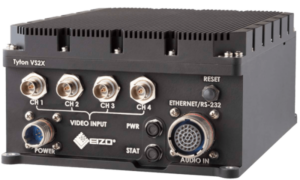 The Tyton VS2X is a rugged 3U VPX stand-alone H.265 (HEVC) / H.264 video/audio encoding and streaming solution for military and aerospace video transmission needs in challenging field environments.
It can encode and stream four 3G/HD/SD-SDI or CVBS (NTSC/PAL) video inputs simultaneously with the ability to accept and merge CoT/KLV or SDI VANC KLV metadata. Encoded video streams can be output simultaneously over 1 Gbps Ethernet and an optional USB 3.0 interface.
EIZO provides a range of rugged standalone low-power video accessories, including 3G-SDI video splitters with signal regeneration for superior video quality, and video format converters for DisplayPort to traditional DVI or VGA.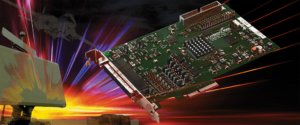 EIZO is the sole distributor in North America of Cambridge Pixel's range of hardware and software solutions for radar and sensor data processing and display. The highly flexible products provide options for off-the-shelf solutions, or selected components that can be incorporated by systems integrators into a bespoke solution.
Cambridge Pixel's products are highly suited to USV navigation, collision avoidance and target recognition. Their radar and video processing solutions provide a wide range of capabilities for USVs undertaking tasks such as minehunting, surveying and scientific research, including:
To find out more about EIZO Rugged Solutions and their video and GPGPU computing solutions for drones and unmanned systems, please visit their profile page:
https://www.unmannedsystemstechnology.com/company/eizo-rugged-solutions/