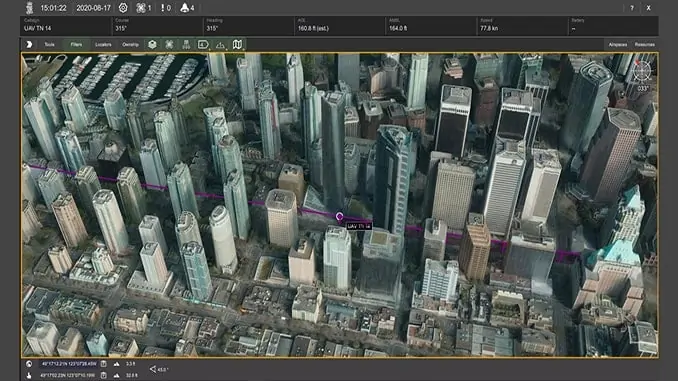 Kongsberg Geospatial and Vricon have integrated what they claim is the world's highest-resolution globally available 3D terrain into the ground control station (GCS) of an unmanned aerial system (UAS). The two companies will be demonstrating the results of the integration in an upcoming webinar hosted by the Association for Unmanned Vehicle Systems International (AUVSI).
The webinar aims to highlight the safety issues inherent in performing drone operations in complex and urban environments. Ordinarily, drones operating in such conditions without high-accuracy digital surface model (DSM) data lack the situational awareness required to avoid obstacles. The high-resolution terrain data has been used to accurately plot the altitude and position of obstacles such as buildings and towers, and combined with real-time LoS (line of sight) calculations to provide enhanced collision avoidance for UAVs being operated in close proximity to infrastructure such as buildings, powerlines and radio towers.
The webinar will also demonstrate how the real-time LoS calculations can be used to predict problem areas for signal propagation, as well as to help ensure effective sensor coverage.
The geospatial data used for this demonstration has been provided by Vricon, who will describe how to obtain and set up the best available geospatial data for a given mission area and demonstrate the level of detail that can be obtained through the use of high-resolution 3D surface models. The presentation will feature 3D maps populated with 3D surface model data, which provide an extremely high level of fidelity, and high-resolution 3D globe terrain data that is useful for LoS calculations.
Paige Cutland, Vice President at Kongsberg Geospatial, commented: "In addition to building avoidance, it can be dangerous to lose the data connection with a UAV in the middle of a mission. However, using high-resolution data from Vricon and real-time LoS calculations, you can discover problem areas along your mission route ahead of time and adjust your flight plan to prevent problems before they happen."
Registration for the webinar, which is taking place on September 17th, at 3:00pm EDT, is available on the AUVSI events website.