Creomagic, a leading developer of cognitive wireless mesh connectivity solutions for mission-critical applications, has partnered with Unmanned Systems Technology ("UST") to demonstrate their expertise in this field. The 'Silver' profile highlights how their MANET (Mobile Ad-Hoc Network) radio systems can be used to provide high-reliability coverage for UAVs (unmanned aerial vehicles), UGVs (unmanned ground vehicles) and other robotic platforms.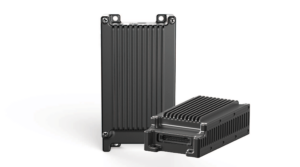 The CNT-M2 is an advanced intelligent MANET SDR module that enables the creation of robust, self-forming and self-healing wireless mesh networks. It provides secure, highly reliable connectivity for a range of demanding applications, including real-time video transmission for mobile surveillance, NLOS (non-line-of-sight) communications, and command and control of drones and robotics.
Providing secure IP networking with end-to-end encryption and seamless Layer 2 connectivity, the CNT-M2 radio module can be easily integrated into almost any platform or application. Up to 64 nodes can be operated on a single channel, with an unlimited number of hops and no master node required, and the entire network can be remotely controlled and monitored.
The lightweight, compact units are ideal for SWaP-C (Size, Weight, Power and Cost)-conscious UAVs and unmanned vehicles, and are available in UHF, S-Band and C-Band frequency variants. They can also be modified to suit specific customer requests.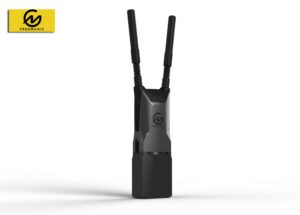 The CreoHub is a next-generation full turnkey MANET SDR communication solution that provides high-security wireless mesh connectivity for tactical applications such as search and rescue, law enforcement, disaster management and battlefield deployment. With decentralized management and peer-to-peer networking, the CreoHub is ideal for mission-critical communications in situations with unreliable or no existing infrastructure.
Secured by advanced end-to-end powerful encryption, the CreoHub enables the transmission and sharing of real-time video, voice, text message and location data, providing a Common Operating Picture (COP) and total team awareness for tactical applications. The Android-based CreoApp for tablets and smartphones provides intuitive and convenient access to all of CreoHub's features and functionality, and allows video streaming from any external device.
The CreoHub is offered in three different versions – the currently available Basic configuration, and new Lightweight and ruggedized Vehicle and Vessel configurations due to launch in the near future. Available frequency options include UHF, S-Band and C-band, but can be modified upon customer request.
To find out more about Creomagic and their MANET radio solutions for drones and robotics, please visit their profile page:
https://www.unmannedsystemstechnology.com/company/creomagic-ltd/