HFE International, a leading manufacturer and developer of high-reliability fuel injection engines, rotary engines and ground support equipment for drones and UAVs (unmanned aerial vehicles), has partnered with Unmanned Systems Technology ("UST") to demonstrate their expertise in this field. The 'Gold' profile highlights how their gasoline and multi/heavy fuel unmanned propulsion solutions can be used for a wide variety of small UAVs.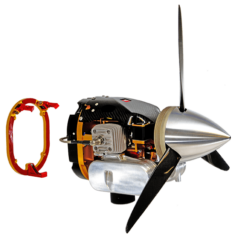 The DA70 GenPod is an easily field-swappable UAV engine that dramatically reduces operational downtime. The entire system, including electronics, fuel pumping system, EFI, ignition, and motor mount isolation, can be removed by simply flipping two clips, saving significant time and costs during scheduled maintenance.
The DA70 GenPod can be integrated into new UAV designs with a minimum of effort, requiring only a power supply, fuel tank connection and throttle position signal. The built-in starter requires only a 5V signal, providing up to 500 W of electrical power for the avionics system and featuring integrated power management.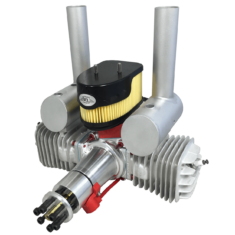 The DA series of UAV engines features state-of-the-art fuel injection technology for high-efficiency operation, and a special magnet configuration in the propeller hub for easy starting. The built-in engine control module (ECM) can be powered by a single 3-cell Lipo battery of capacity 1500mah or greater, with a total power draw of only 12 watts (1 amp) at full throttle.
All DA UAV engines have been tested from sea level to 10,000 ft altitude, and at temperatures ranging from 10°F to 120°F.
The mil-spec versions of the DA series of UAV engines feature a state-of-the-art fuel injection system that has been in real-world service on over 700 aircraft and has flown more than 67,000 hours in a wide range of environments around the world.
All mil-spec DA UAV engines have been tested to MIL-STD-810, at altitudes up to 20,000 ft and at temperatures ranging from -10°F to 120°F.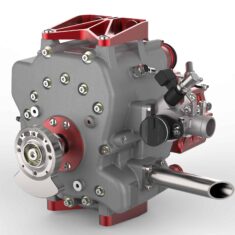 HFE International is an official supplier and service provider of the Advanced Innovative Engineering (AIE) range of Wankel rotary engines for UAVs and drones. AIE's rotary propulsion systems deliver superior power and efficiency in a smaller, lighter, low-vibration package, making them ideal for SWaP-constrained unmanned aircraft.
The engines feature AIE's revolutionary SPARCS cooling system, resulting in greater reliability, efficiency and engine lifespan. Full electronic engine management removes the need for mechanical control of the engine, making integration quicker and easier.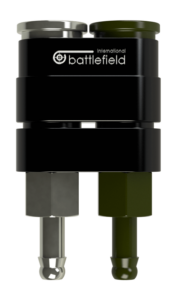 HFE International provides a range of Battlefield Endurolink aerospace-grade couplings, fittings and valves for UAV fuel systems. These compact and lightweight parts are designed to withstand the harsh conditions of demanding UAV applications, and are compatible with all major fuels including gasoline, diesel, kerosene, JP5 and JP8.
Constructed from lightweight anodized aluminium and nickel-plated brass, with GFLT seals, Battlefield Endurolink UAV fittings have been proven with over a million successful flight hours.
To find out more about HFE International and their engines and propulsion solutions for UAVs, please visit their profile page:
https://www.unmannedsystemstechnology.com/company/hfe-international-llc/