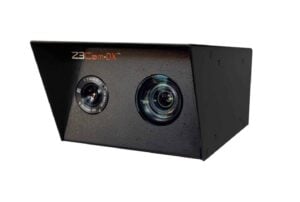 Z3 Technology, a provider of video encoding and camera solutions, has announced the launch of the Z3Cam-DX, a dual camera system that combines video compression expertise from Z3 Technology with Sony's 4K camera technology and DRS Tamarisk's thermal imaging. Each camera can be independently and remotely controlled while recording and simultaneously monitoring the streams in dual or picture-in-picture mode. The new camera solution is ideal for unmanned aerial vehicle (UAV) imaging applications such as surveillance and monitoring.
"The Z3Cam-DX is a leap forward in dual camera systems. In one simple solution, our customers can incorporate low latency 4K video from Sony's proven system in the end application, with the bonus of unbeatable, proven thermal imaging from DRS Tamarisk. The applications are endless including industrial, intelligent monitoring and surveillance systems," Aaron Caldwell, CEO, Z3 Technology said.
Leveraging the Sony FCB-ER8530 4K camera module, the visible camera features H.265 encoding up to 2160p30 with 30x super resolution zoom (SRZ) in UHD and 40x SRZ for HD. The noise reduction algorithm significantly improves image quality in high frequency and high detail areas.
The thermal camera utilizes the DRS Tamarisk camera module to take advantage of the high contrast thermal imaging in 320×240 resolution. The camera incorporates an integrated shutter for advanced video calibration.
"Sony is impressed with the rapid system development accomplished by the team at Z3 using our FCB-ER8530 4K Functional Camera Block," commented John Monti, Director of Sales and Marketing for the Visual Imaging Solutions business at Sony Electronics, Inc. "We expect the Z3Cam-DX system will be highly sought after in a variety of vertical market segments including perimeter security, border control, frontier surveillance, and search and rescue."