Webinar Details
Hosted by Elistair
July 1, 2021, 16:00 (UTC)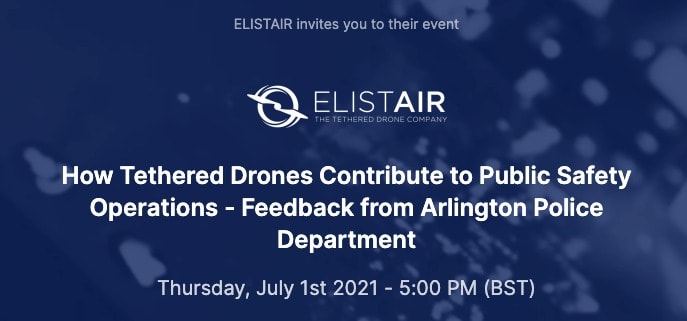 Arlington, TX. Police Department Lt. Neal Landfield, and Sergeant Robert Robertson, will share their experience of using drones and tethered drones for public safety daily operations.
Join us and two US law enforcement officials as they share their experiences of how tethering stations can increase drones capabilities and bring public safety operations to a new technological hedge.
Neal Landfield and Robert Robertson will explain how they integrated tethering solutions to their drone fleet to strengthen their presence schemes and deployment procedures.
Ask your questions in live on the chat application to Neal, Rob, and our host Ryan Jarvis, North American Sales at Elistair | US Navy Seal Team, UAS.
Webinar Agenda:
Introducing Elisair by Ryan Jarvis: 5 minutes
Introducing Neal, Rob and Arlington PD operations: 5 minutes
Feedbacks from Neal and Rob based on their field experience with tethered drone: 20 minutes
Questions – Answers with the participants: 15 minutes
Registration is open until 07/01/2021 at 00:00