Webinar Details
Hosted by Elistair
March 29, 2022 , 15:00 (UTC)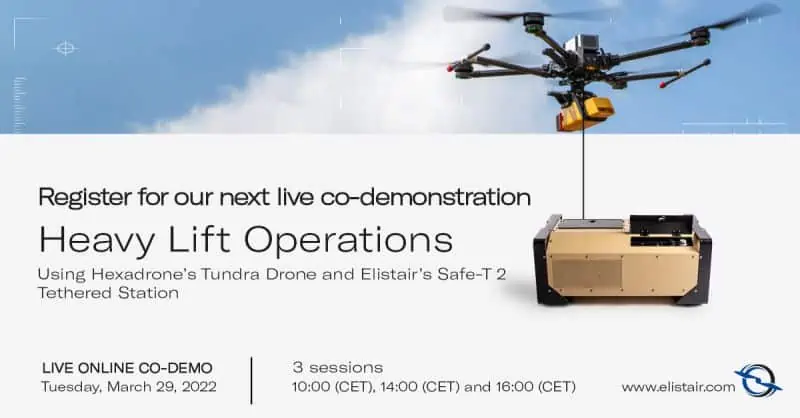 During this co-demonstration with our partner Hexadrone, discover how the Tundra drone tethered to our Safe-T 2 ground station can carry 4kg / 8,8 lbs of payload for continuous flight missions of several hours at an altitude up to 90m (295 feet).
About the Safe-T 2 tethered station:
Discover the Safe-T 2 in action. Compatible with most drones on the market, it allows long-duration static flights in demanding conditions due to its robust design and IP54 certification. The Safe-T 2 can be deployed in just a few minutes and is ideal for obtaining uninterrupted aerial views of large perimeters for several hours or the deployment of pop-up communication networks.
About the Tundra drone:
Discover the modular, rugged, and multifunctional drone from French manufacturer Hexadrone. Designed according to an open-innovation logic, the Tundra can carry up to 6kg untethered and 4kg when tethered to the Safe-T 2 Station.
Duration of the demonstration: 45 minutes
Presentation of Elistair and Hexadrone
Setup of the Tundra with it's 4 Kg / 8,8 lbs payload and with the Safe-T 2 tethered station
Flight of the tethered Tundra and focus on the heavy lift applications
Landing
Questions and Answers in live via the chat application
Please feel free to ask your questions on the live chat throughout the demonstration.