Webinar Details
Hosted by Sightline
July 7, 2021, 16:00 (UTC)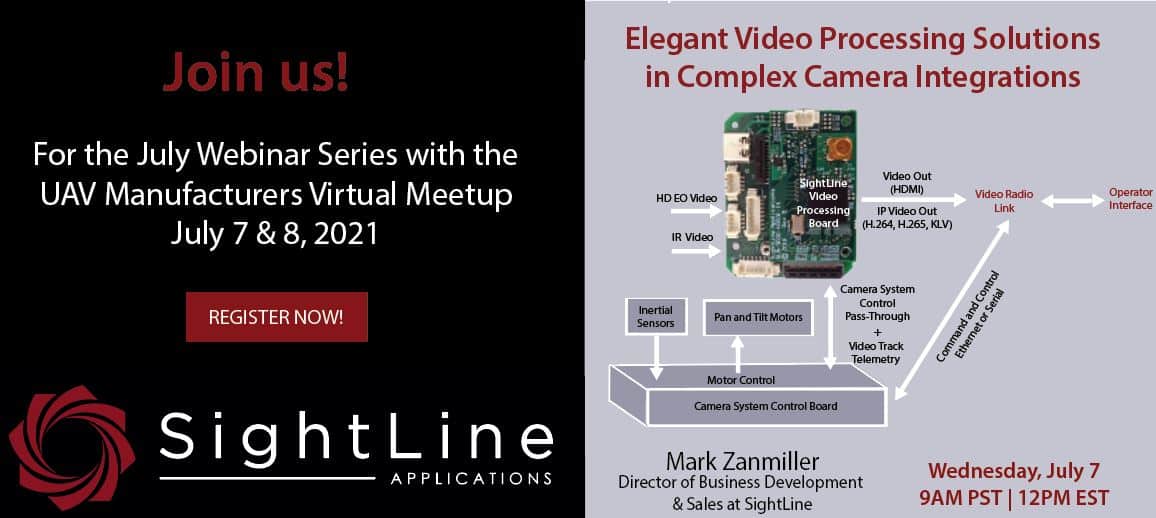 ISR payloads are entertainingly complex products – having flexible COTS sub-component options and robust supplier support are keys to a successful, elegant product. It is easy to overlook the scope of development and support efforts for video processing within UAS Systems. The choice of cameras and video processor are vitally important to meet functionality and SWaP for every UAS optronic sub-system. Video processors that can interface with a wide range of cameras, solve multiple video steam related functions, and help system integrators with intra-system connectivity help simplify the integration process and time to market.
SightLine Applications, Inc. is an Oregon based company that provides onboard video processors that are key sub-assemblies in advanced camera systems. Founded in 2007, SightLine has an engineering focused team of 18. We understand the importance of every technical support call and strive to be an important part of your development and integration teams. SightLine Applications adds significant value to a wide range of advanced camera systems through our onboard video processing solutions.
Speaker: Mark Zanmiller, Director of Business Development
Speaker Biography: Mark has led the BD team at SightLine for 9 years concentrating on building a strong team and world-wide customer base in multiple markets. Prior to that, Mark led BD teams at Sagetech and at Cloud Cap Technology. Foundational experience was as a system and electrical design engineer at Cloud Cap, ANPC, and Hughes Aircraft. Mark earned a BSEE (bioengineering minor) from the University of Wyoming.
When not noodling about work, Mark is active in Hood River as an elected City Councilor, working on exciting issues including stormwater, parking, urban renewal, housing attainability, and open space.