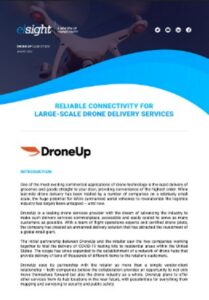 Elsight has released a case study highlighting its partnership with DroneUp, a drone services provider that is developing an unmanned delivery network within the United States. Elsight's Halo cellular connectivity solution was selected to provide DroneUp's delivery UAVs with a high-reliability communications capability.
Download the full case study from Elsight's website
The case study covers:
Why a reliable connectivity solution is critical for DroneUp's vision of a versatile drone services ecosystem
The advantages of cellular technology over SATCOM and traditional RF datalinks
How Halo stood out from the available cellular solutions
How Elsight has helped DroneUp scale their delivery business to a level that has never been achieved before
To find out more about cellular communication for mission-critical applications such as drone delivery, download the full case study from Elsight's website.