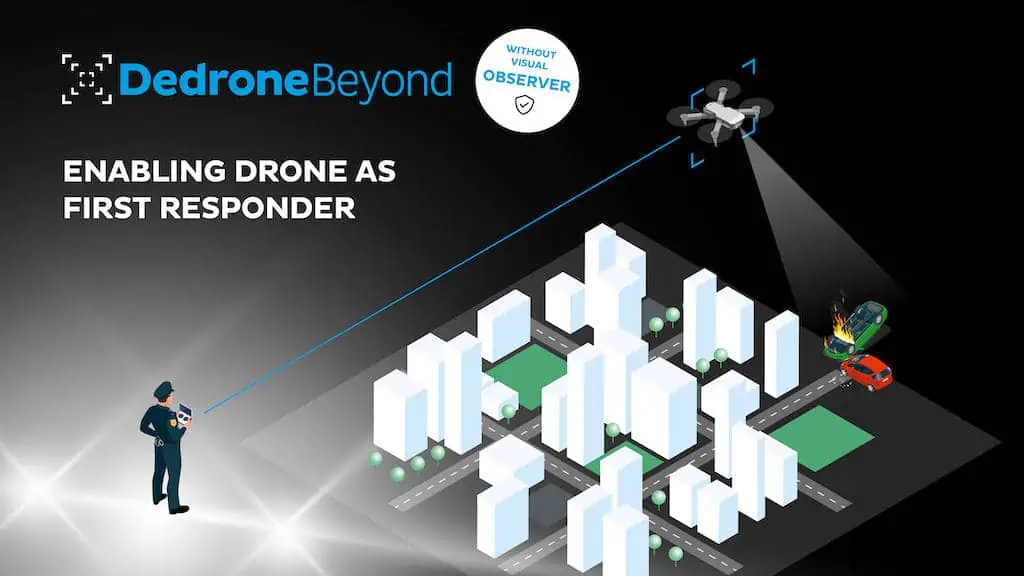 Dedrone has launched DedroneBeyond, its solution to enable drone operations to fly beyond visual line of sight (BVLOS).
DedroneBeyond will be used for state, local, territorial and tribal (SLTT) law enforcement and emergency services when deploying drones as first responders (DFR).
Powered by the same computer-vision-enabled, sensor-fusion AI that currently protects over 500 sites around the world, DedroneBeyond delivers complete airspace situational awareness.
This solution is being developed and tested in partnership with others, including Axon Air powered by DroneSense, for safe drone operation, providing an infrastructure for the positive drone economy to emerge.
To fly a drone BVLOS in the United States, the Federal Aviation Administration (FAA) must issue a certificate of authorization (COA) to the end user. To acquire a COA, an agency must show that its technology can reliably detect other aircraft to prevent mid-air collisions.
DedroneBeyond layers Automatic Dependent Surveillance–Broadcast (ADS–B) detection into Dedrone's existing premier detection and sensor-fusion technologies, technologies that have placed the company in a global leadership position for airspace security. By using a drone to assess a situation, law enforcement agencies can respond faster and be more resource efficient.
DedroneBeyond joins Dedrone's suite of smart airspace security solutions, all of which leverage DedroneTracker.AI, the company's global-leading command and control (C2) airspace security platform.
With sophisticated AI models, the platform performs true sensor fusion to accurately monitor a drone's flight path and behavior. Dedrone additionally offers this C2 capability across every kind of setting depending on customer needs, including:
DedroneCityWide: for zero-install drone detection and monitoring across wide areas.
DedroneFixedSite: drone detection for critical infrastructure locations and mobile kits designed for specific situations.
DedroneTactical: for agile expeditionary environments.
DedroneRapidResponse: for mobile drone detection.
DedroneBeyond is being tested with law enforcement agencies to demonstrate that it can be safer and more reliable than human visual observers for monitoring airspace for BVLOS drone operations.
"Drones can provide more than just a birds-eye view of a situation; they can arrive at a scene faster than humans and then enable assessment of an emerging incident to provide critical information for law enforcement and first responders to make better decisions before sending in personnel. Today, this potential is hampered by the need to always have human eyes on a drone," said Aaditya Devarakonda, CEO of Dedrone.
"Eliminating the need for human visual observers is the key to unlocking the value of DFR and bringing its benefits to a larger number of communities," said Aydin Ghajar, General Manager of Axon Air. "We're incredibly excited to add DedroneBeyond to the Axon Air offering and the value it can bring in combination with all the hardware, software, and professional services we offer to agencies to operate a lifesaving drone program successfully."
Find suppliers and manufacturers of First Responder Drones >>