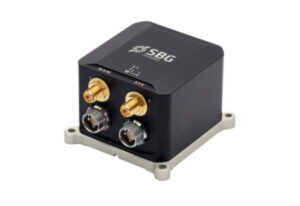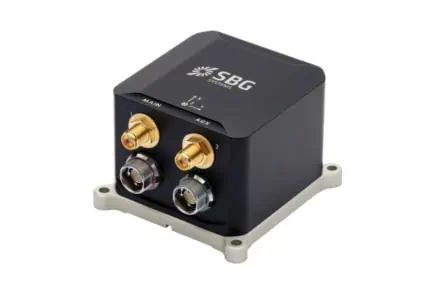 SBG Systems has launched Ekinox Micro, a compact and rugged high-performance GNSS-aided INS (inertial navigation system) designed to deliver unmatched accuracy in even the most challenging environments. Combining a high-performance MEMS tactical inertial sensor with a quad-constellation, dual-antenna GNSS receiver, Ekinox Micro meets MIL-STD-461, MIL-STD-1275, and MIL-STD-810 standards.
Measuring just 4.2 x 5.7 x 6.0 cm and weighing only 165 g, Ekinox Micro is small and lightweight, yet rugged enough to handle any application. It includes pre-configured motion profiles for land, air, and marine applications including UAVs, UGVs and USVs, allowing the sensor and algorithms to be tuned for maximum performance under any condition. The unit incorporates a dual-antenna GNSS receiver for heading, and also features field-proven algorithms for maximum performance even in single-antenna mode for all but the lowest-dynamics applications.
Ekinox Micro is designed for ease of use and integration, with simple connectors, a web configuration interface, a datalogger, Ethernet connectivity, a PTP server, and a REST API for configuration and multiple input and output formats. This allows developers to easily integrate it into their applications and workflows.
Ekinox Micro is RTK-compatible and based on a tactical-grade 0.8°/h IMU calibrated across the entire operating temperature range, with accuracy roll/pitch of 0.015° and accuracy heading of 0.035° and accuracy position of 1.2 m in without any corrections or 1cm in RTK. The system also embeds several technologies that counter GNSS jamming and spoofing. Its dual-band, full-constellation GNSS significantly reduces the chance of an attack being successful, and mitigation algorithms filter jamming and spoofing, with flags to inform the user whenever a corrupted signal is detected.
The system also offers an automatic aggressive regression mode that falls back on inertial sensors and velocity aiding as soon as a potential jamming or spoofing event is detected. This allows the system to be used in hostile environments with great efficiency, and to continue navigating for extended periods of time when combined with velocity aiding such as Odometry, DVL or Airdata.
SBG Systems will be attending AUVSI XPONENTIAL 2023 – find them at Booth 3937.