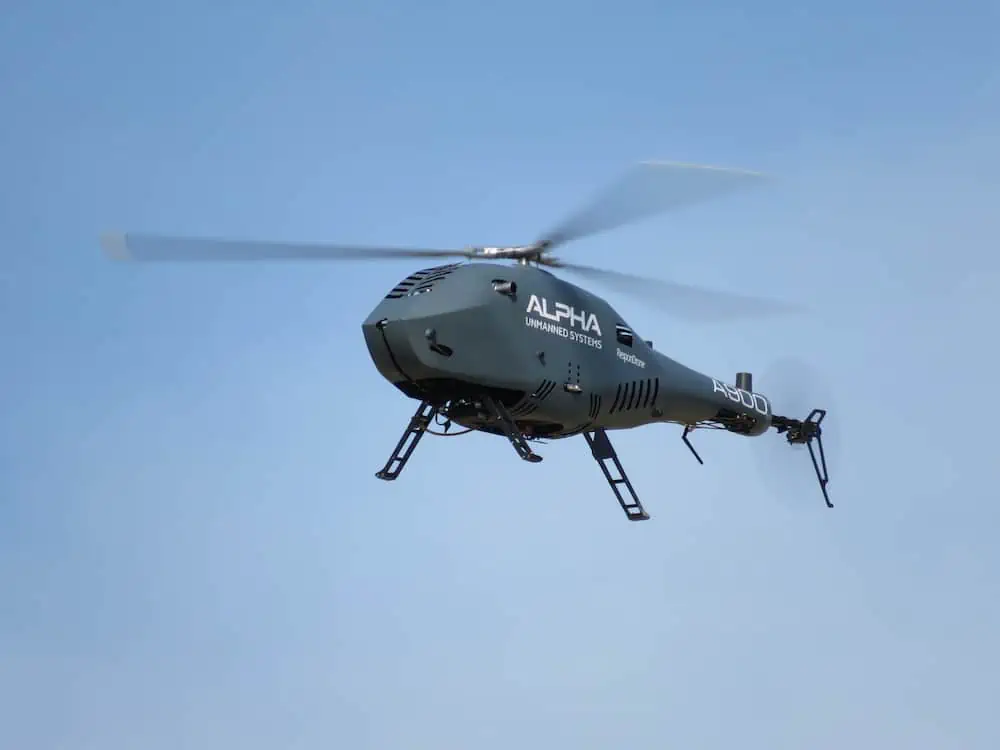 US-based system integrator Rapid Expeditionary Concepts (REC) has received a prime contract award from the US Department of Defense for the purchase of Alpha 900 unmanned helicopter systems manufactured by Alpha Unmanned Systems, SL for integration, test, evaluation, and deployment.
REC is responsible for the integration of a specialized electro-optical sensor used in counter-UAS operations. In addition to providing the fully integrated solution, REC and Alpha will provide deployment and training support utilizing the Alpha 900 in a joint operational evaluation to be conducted by the US Department of Defense over the next two years.
REC delivers end-to-end Command, Control, Communications, Computers, Cyber, Intelligence, Surveillance & Reconnaissance (C5ISR) solutions with a particular focus on integrating advanced payloads and sensors on-board various manned and unmanned platforms intended for land, sea, and airborne use.
REC has a long track record of adapting commercial-off-the-shelf (COTS) technology for use by various end-customers in the defense, energy, and special operations communities. The company utilizes its strengths in translating end-user provided operational requirements into technical solutions that meet or exceed those provided by US DoD in defeating evolving threats from both sophisticated and improvised unmanned systems in air, sea, and land environments utilizing the Alpha 900.
Weighing only 55lbs, the Alpha 900 UAV is renowned for its comparative long autonomous flight time of up to 4 hours with up to 8.5lbs of payload capacity. The Alpha 900 small fuel powered helicopters can take-off and land automatically on moving platforms for a variety of purposes, from maritime security to power line inspection, mapping, and precision agriculture.
The Program Director, Dr. Paul Kuttner, PhD, said: "We have a long track record of maximizing efficiencies and delivering best-value for end-users by reducing total cost, size, weight, and power (C-SWaP) of subsystems intended for utilization on unmanned aircraft, which is perfectly suited for this requirement. Our team has been involved in the design, integration and/or deployment of Group 1-5 unmanned aerial systems and subsystems of relevance for many years and we are confident in our ability to execute this program flawlessly. In addition, we have the unique ability to leverage an operational mindset to develop training curriculum and documentation that resonates with real-world end-users to ensure operational success. We are excited to partner with the US DoD and Alpha in this endeavor and look forward to many future successes, where our team can utilize the versatile and efficient Alpha 900 for use in delivering sensor suites of relevance to the ever-changing demands of conflict in various areas of operation."  
"Alpha is delighted to support the US Government and is pleased that its reliable products fulfill the demanding requirements for this project," said Alpha's CEO, Eric Freeman. "We hope to build a long-lasting relationship with the US Government and to help other Spanish companies with cutting-edge technologies enter the world's largest and most important technology marketplace."