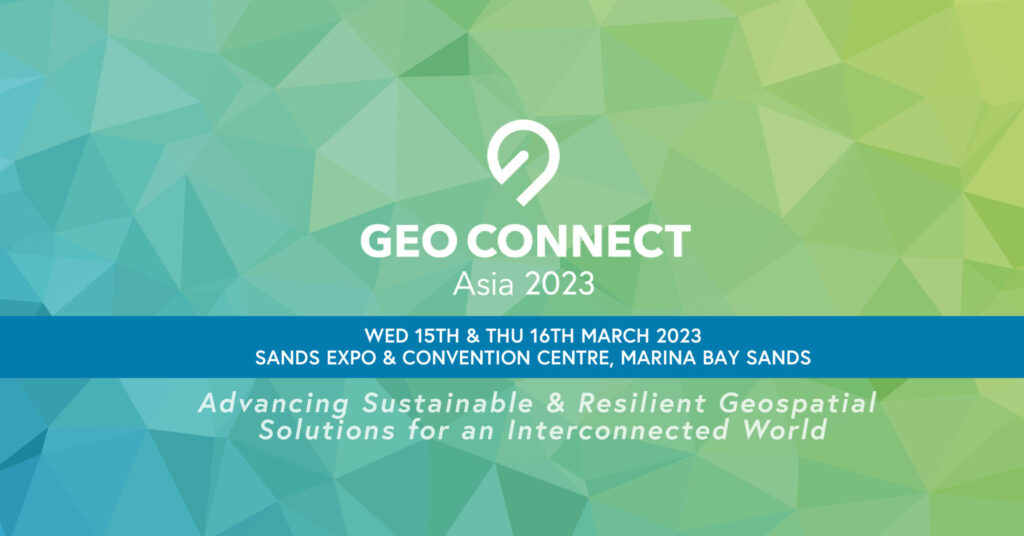 Geo Connect Asia (GCA) 2023, the third edition of Southeast Asia's flagship geospatial and location intelligence industry trade show and conference, is taking place 15-16 March at Marina Bay Sands Expo & Convention Centre in Singapore. 
The two-day event, organized by Montgomery Asia, welcomes over 2,500 delegates and attendees from more than 25 countries and 75 industry-leading companies, showcasing a full suite of geospatial technologies, digital construction and drone-based solutions.
GCA is co-located with the first edition of Drones Asia, jointly launched by Montgomery Asia, in conjunction with the Association of Aerospace Industries of Singapore (AAIS) and Inmarsat, as Gold Sponsor. Capturing the commercial demand for aerial, unmanned and ground-based solutions, this highly anticipated show is dedicated to the region's expanding UAV ecosystem. 
GCA 2023 is also held alongside Digital Construction Asia 2023, a platform for the introduction of the latest solutions for the built environment – including AI, BIM, blockchain, IoT, and visualization technologies. 
Guest of Honour Dr Amy Khor, Senior Minister of State for Transport and Senior Minister of State for Sustainability and the Environment, addressed attendees during the GCA 2023 opening ceremony, and also in attendance were Rupert Owen, Co-Founder of Geo Connect Asia; Yeoh Oon Jin, Chairman of Singapore Land Authority (SLA); and Dr Nadine Alameh, CEO of the Open Geospatial Consortium.
At the event, GCA 2023 partner SLA signed a Memorandum of Understanding with the Container Depot and Logistics Association (Singapore) to improve heavy vehicle routing, and an Intent of Collaboration with the General Authority for Survey and Geospatial Information of the Kingdom of Saudi Arabia to exchange knowledge and experiences on geospatial technology adoption. SLA also announced a pilot project with SG Enable and Gardens by the Bay to map barrier-free routes to enable wheelchair users to move about easily.
As governments and businesses recognize the value and potential of geospatial technologies in tackling pressing issues such as climate change, infrastructure development and process optimisation, it is crucial for industry players to further accelerate their capabilities and nurture young geospatial specialists. GCA 2023's theme, "Advancing sustainable & resilient geospatial solutions for an interconnected world", seeks to provide a strategic platform for knowledge transfer among industry players and the collaborative development of geospatial solutions across land, building, sea and sky. With the constant strides in technological advancements, improved AI and drone technology have found new and practical applications across various industries, helping to alleviate industry problems such as manpower, safety, and sustainability issues.
Rupert Owen, Co-founder of Geo Connect Asia, said, "Montgomery Asia is delighted to bring together geospatial and location intelligence industry experts from all over the world. Finally hosting a fully in-person edition, we are excited to be creating a regional community for the industry, with a Singapore base; I believe that these interactions will spur meaningful industry collaboration, knowledge sharing and drive new investment opportunities. Securing the continued support of our sponsors, partners and exhibitors is a testament to the exciting GCA format we are developing, and we would like to thank one and all for making this event possible."
Mr Sin Lye Chong, Assistant Chief Executive (Geospatial & Engagement) and Chief Sustainability Officer, Singapore Land Authority, said, "The green economy has transformed country and corporate agendas worldwide, and both private and public sectors are increasingly looking to adopt sustainability practices for the benefit of their businesses and communities. As Singapore's National Geospatial Agency, SLA's partnership with Geo Connect Asia demonstrates our commitment to bring industry players across the public, private and academic domains together to exchange ideas and knowledge, and tap on fresh opportunities to mainstream the use of geospatial data and capabilities. This is also a platform to spur innovative geospatial solutions that will accelerate efforts in enabling and empowering sustainability initiatives here in Singapore and around the world."
Dr Nadine Alameh, Chief Executive Officer of the Open Geospatial Consortium, said, "The geospatial industry and location intelligence is at the forefront of decision-making across enterprise, government and non-profit organizations. The dynamics of Asia, with its strong interplay between land, maritime and sky, presents unique challenges, which fortunately the industry can help address. With a focus on the interoperability of data, the OGC is well positioned to incorporate the latest technologies relating to space, autonomous vehicles, AI, as well as those that are already well entrenched to provide the most appropriate solutions. The OGC is excited to be able to build its contacts and promote awareness of the geospatial industry across the region by being in Singapore for this year's Geo Connect Asia."
The Geo Market Place
The main exhibition showground – the Geo Market Place – has doubled in size to accommodate the overwhelming support from industry players. AECA Solutions, Heron Technology, IDI Laser, Metasensing, Piesat, Satel, ST Engineering Geo-Insights, Teledyne Flir, Trimble, Wingtra, Yellowscan and many other participating exhibitors are showcasing innovative solutions to meet visitors' sourcing needs. A Singapore Pavilion, led by SGTech, features over ten companies, including Leica Geosystems, Wong Fong Academy, YJP Surveyor and more.
Geo Connect Asia Conference
A centerpiece of the event is the Geo Connect Asia 2023 Conference themed "Advancing sustainable & resilient geospatial solutions for an interconnected world". It aims to prepare businesses and the geospatial industry for the Geospatial 4.0 revolution, while addressing issues of sustainability and climate change, and introducing new application tools with a focus on AI, blockchain, IoT, robotics, and UAVs.
The conference program comprises 11 panel-led sessions featuring 65 prominent industry speakers, panellists and moderators, including:
John Whitehead, Senior Director of Sales and Distribution, APAC of Trimble Inc
James Tan, Director, Smart District Division, JTC
Yu Ning Hwang, Chief Planner & Deputy Chief Executive Officer, Urban Redevelopment Authority (URA) Singapore
Sin Lye Chong, Assistant Chief Executive, Singapore Land Authority
The main conference themes cover a comprehensive range of topics, including:
Driving sustainable solutions in the built environment through improved analytics
Open standards and open data models for new sustainable urban project planning
Driving intelligent solutions for critical infrastructure projects
Advances in AI & robotics in the geospatial industry
Mapping future talent: connecting digital natives with the worlds of surveying and geospatial
To view the conference agenda, click here>
The Expert Stage programs have also been curated to further drive industry collaboration in open platform discussions. These comprise:
Digital Underground Connect: Advancing subsurface utility mapping for construction and asset management
Unlocking the potential of digitalization for a sustainable AEC industry
To view the expert stage programs, click here>
A free-to-attend series of 34 Tech Talks will also be presented on the show floor, where companies will present on topics, including geospatial advancements, remote sensing, digital construction and drone solutions.
To view the Tech Talk program, click here>
At the UAV Innovation Theater at Drones Asia, over 30 free-to-attend panel discussions and presentations will be conducted to broaden the conversation surrounding the region's expanding UAV ecosystem. 
To view the Drones Asia program, click here>
Sponsors
Supporting this year's edition of GCA is a prestigious line-up of sponsors, including third-time Platinum Sponsor Trimble, Gold Sponsor Inmarsat, Silver Sponsors Gamuda Singapore and Topcon Singapore Positioning, and Sponsor AECOM.
Industry Partners
GCA 2023 is also well-supported by close to 60 trade organizations, associations and government agencies.
Strategic Partners include the Singapore Land Authority (SLA); SLA's Geospatial Industry Centre, GeoWorks; and SGTech. The event is also well supported by the Infocomm Media Development Authority (IMDA); Singapore Exhibition and Convention Bureau (SECB); buildingSMART Singapore (bSS); and the Construction Industry Joint Committee (CIJC).
Supporting Partners include the ASEAN Federation of Land Surveying and Geomatics (AFLAG), Association of Aerospace Industries (Singapore) (AAIS), Association of Consulting Engineers Singapore (ACES), Container Depot and Logistics Association (Singapore) (CDAS), Institution of Civil Engineers (ICE), The Institution of Engineers (IES), National Additive Manufacturing Innovation Cluster (NAMIC), Nordic Innovation House (NIH) Singapore, Real Estate Developers' Association of Singapore (REDAS), Royal Institution of Chartered Surveyors (RICS), Singapore Contractors Association Limited (SCAL), Singapore Green Building Council (SGBMP), Singapore Institute of Building Limited (SIBL), Society of Project Managers Singapore (SPM), Smart Cities Network (SCN) and Temasek Polytechnic (TP), among others.
To register for a complimentary trade visitor pass to the exhibition, click here>
Exhibition admission is complimentary and pre-registration is encouraged to facilitate ease of entry into the halls.