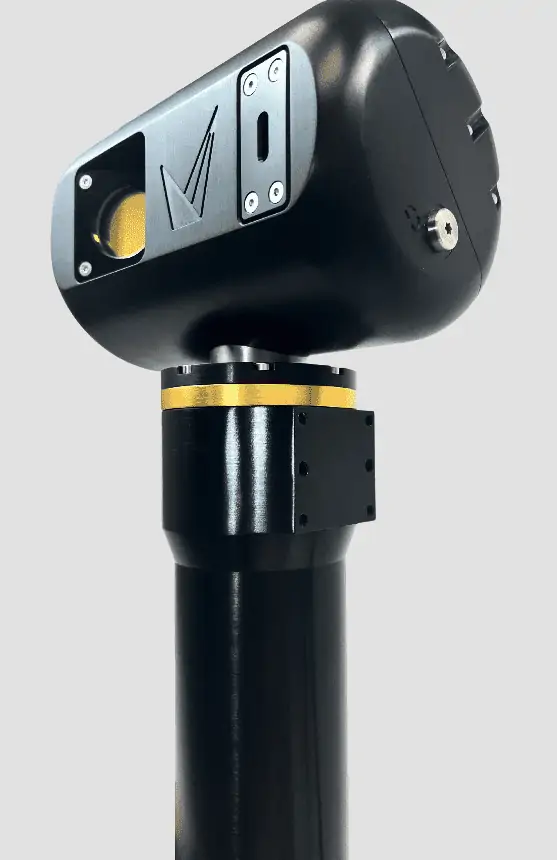 Voyis has released the Insight Nano, the latest model in its Insight family of compact underwater laser scanners.
Fusing customers' feedback with the latest sensor technologies, the Insight Nano offers higher data resolution, faster data capture, and greater control than previous versions.
A compact and robust design capable of generating high-resolution 3D modelling in the most difficult-to-reach places, this new product is another way Voyis is attempting to accomplish its mission to 'See the Depths like We See the Surface'.
Key features of this new release in comparison to the previous version include:
Higher Resolution

New: 2064 points/line | Old: 480 points/line
Voyis has increased the number of points per line, which means four-times greater resolution and detail. A higher resolution allows users to make more confident decisions during subsea inspections by generating models with enough detail to detect the smallest of defects such as cracks, scratches, or pitting.
Faster Data Capture

New: 35 Hz | Old: 10 Hz
Faster data capture means users can capture laser profiles faster, and consequently achieve a tighter resolution between profiles or perform scans at higher speeds – offering increased confidence or increased survey efficiency.
Higher Sensitivity Sensor

The new Insight Nano leverages the latest CMOS technology with 65% quantum efficiency, which is capable of delivering faster scanning with shorter camera exposure times to achieve greater laser line detection.
Improved Robustness

New: 1000m | Old: 350m
Designed for even the toughest environments, the new Nano is equipped with dual seals on all interfaces for operations in the most difficult to reach places.
The new improved design with dual seal improves the sensor's durability and protects it against debris. In addition to that, Voyis has made the lip of the seal sharper for added resistance.
New Scan Modes

Precision Mode: with step-wise rotation, this mode is focused on gathering the most amount of detail for higher precision.
High Speed Mode: with continuous rotation, this mode allows users to achieve complete situational awareness in less time.
Dynamic Scanning Mode: this is an optional paid feature, typically done from a moving vehicle. The new Nano allows users to perform dynamic scanning, using 3rd party navigational sensors to create geo-referenced results without the need for manually stitching large point clouds.
Improved User Interface

The Insight Nano utilizes the standard Voyis ViewLS software and Data Module to deliver real-time dense data, refined control, and complete system status information. This latest development brings the Insight Nano onto the same operating software as the company's Insight Pro and Micro systems. Shifting to ViewLS allows operators to have greater control of their system by enabling customized settings for camera exposure, laser intensity, and scanning parameters.
Optimized Ambient Light Filter

The new Insight Nano offers a refined way to deal with scanning in areas with ambient light. Leveraging a tailored optical filter, the new Nano is focused on wavelengths specific to the laser output and blocks all excess noise. This results in improved 3D models with reduced noise in areas with sunlight or vehicle operating lights.