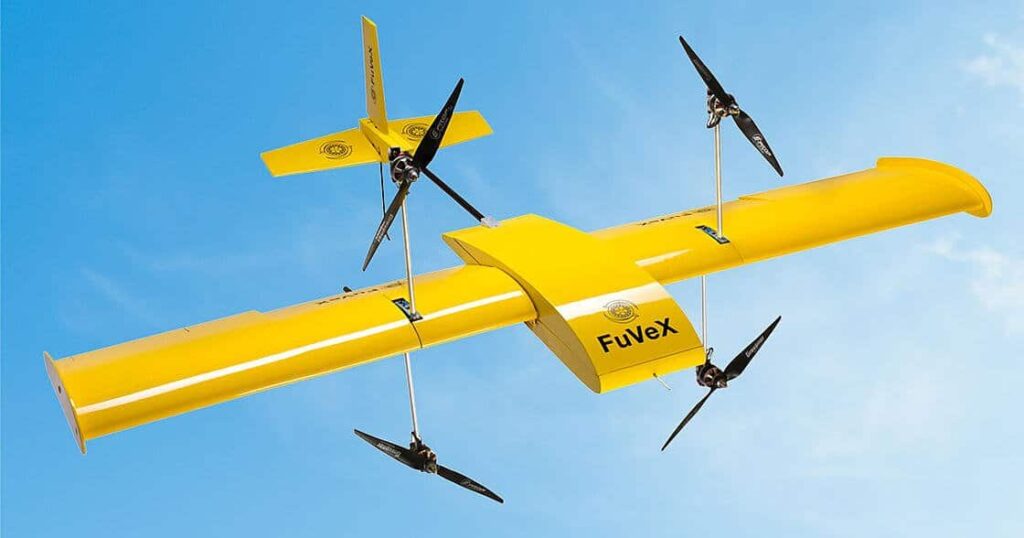 FuVeX has selected Skytrac to provide Iridium Certus connectivity services that will enable global command-and-control (C2) capabilities for the company's long-range industrial unmanned aerial vehicles (UAVs). The services will be provided via Skytrac's DLS-100, a datalink specifically designed to provide Beyond Visual Line of Sight (BVLOS) communications and real-time command and control (C2) for UAVs.
Ensuring connectivity with UAVs during BVLOS operations has proven to be challenging, as the traditional options such as line-of-sight radio connections or cellular networks are limited by coverage and range. By utilizing the Iridium satellite network, Skytrac's DLS-100 will provide FuVeX pilots with global connectivity to the UAV regardless of the aircraft's distance from the ground control station (GCS). Iridium's new Certus services provide a low-latency IP connection so that pilots can send commands to the aircraft while simultaneously receiving flight telemetry back at the GCS.
FuVeX has partnered with Spanish utilities company Naturgy to become one of the first UAV operators to conduct BVLOS flight operations for power line inspections – a safer, more efficient, and sustainable alternative to traditional means. As an early adopter of Certus services, FuVeX positions itself at the forefront of UAS development by utilizing the latest technology to ensure safe and efficient BVLOS flight operations.
Carlos Matilla-Codesal, CEO of FuVeX, commented: "Skytrac's Certus services provide our UAVs with the critical Command and Control capabilities that we need to pioneer a safer, more efficient and sustainable alternative to conduct power line inspections. We are excited to collaborate with SKYTRAC to enable long range drones safely flying to perform critical operations for society."
Jeff Sherwood, director of business development at Skytrac, stated: "We are excited to work with FuVeX on enabling Certus connectivity services of their unmanned platforms. Their innovative aircraft design and unmatched BVLOS capabilities have positioned themselves as an industry leader in UAS power line inspection."