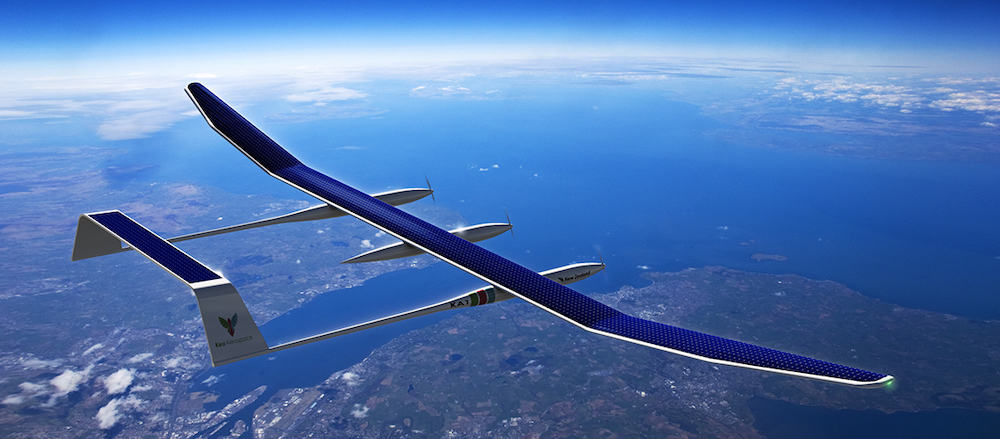 Kea Aerospace has selected SKYTRAC's midband Iridium Certus Satellite Communications (SATCOM) terminal to be installed onboard its High Altitude and Long Endurance (HALE) Unmanned Aerial Vehicle (UAV), Kea Atmos.
Kea Atmos is a solar-powered, remotely piloted fixed-wing aircraft designed for and capable of continuous flight in the stratosphere to collect frequent high resolution aerial images. After takeoff, Kea Atmos ascends to an altitude of 65,000 ft where it will operate for several months at a time. The UAV will carry payloads that will acquire high-value data for Kea Aerospace's customers.
To remotely pilot their aircraft in the stratosphere, Kea Aerospace has selected SKYTRAC's UAV Data Link System (DLS-100) to enable Beyond Visual Line of Sight (BVLOS) Command and Control capability. By utilizing the Iridium satellite network, the DLS-100 will provide Kea Atmos global SATCOM connectivity with 99.9% uptime reliability regardless of weather conditions or the aircraft's distance from the Ground Control Station (GCS).
Enabling 22 Kbps uplink and 88 Kbps downlink speeds as well as photo transfer capabilities, the DLS-100 midband transceiver will also assist in the real-time transmission of imagery and fleet data to support Kea Aerospace in having efficient mission operations.
"We operate in the stratosphere because it is a sweet spot for cost-effective and high-resolution aerial imaging, but it comes with its own challenge of operating BVLOS," said Mark Rocket, CEO of Kea Aerospace. "SKYTRAC's Iridium Certus service provides the low latency BVLOS Command and Control capability that we need to develop a safe, efficient and sustainable means of conducting aerial imaging."
"The ruggedized DLS-100 is optimized for Size, Weight, and Power (SWaP) making it suitable for a variety of platforms including Kea Aerospace's state-of the-art Kea Atmos," said Jeff Sherwood, Director of Business Development at SKYTRAC. "We are proud to provide the reliable and global SATCOM connectivity required to leverage the full extent of benefits that autonomous vehicles provide to various applications, including surveying and aerial imaging."