IMS-350™
The IMS-350 combines high-reliability satellite and cellular datalinking with a powerful onboard server for global broadband communications for limitless applications.
The low-latency system provides broadband uplink bandwidth of up to 352 Kbps and downlink bandwidth of up to 704 kbps.
The mission server can host and support a wide range of capabilities such as sensor fusion and artificial intelligence, compression and transmission of real-video and other data and can also parse collected data to determine what to transmit in real time. The system's smart router prioritizes data throughput and ensures efficient use of both satcom and cellular channels as needed.
The IMS-350 is enclosed in a compact, lightweight, and rugged enclosure for easy integration into uncrewed aerial systems and provides custom power and storage options to suit a range of aerial platforms. The IMS-350 features multiple flexible digital and discrete inputs for ARINC 429, RS-232, Ethernet, and other connectivity options.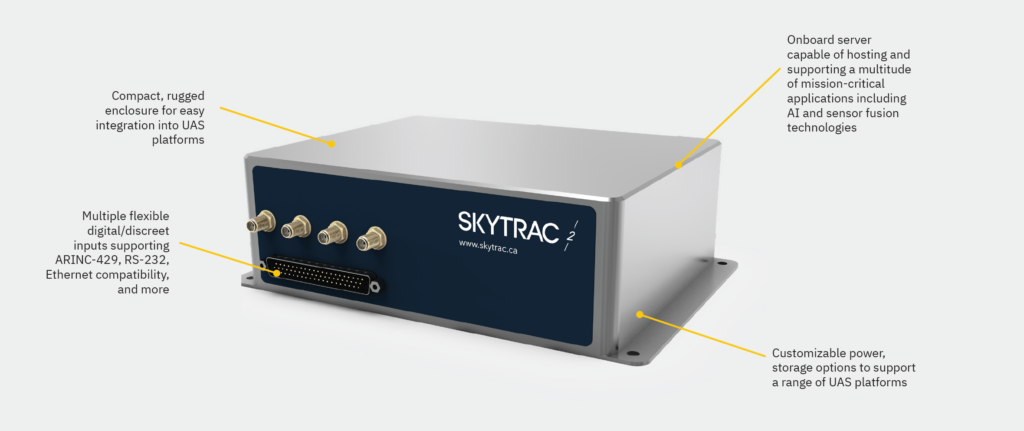 Key capabilities and product highlights:
Beyond Visual Line of Sight (BVLOS) UAV communications
Real-time UAV command and control (C2)
UAS and payload health monitoring
Real-time flight data monitoring (FDM)
Video streaming and data transmission
Global network-based Remote ID
| | |
| --- | --- |
| Dimensions (H x W x D) | 2.50" x 5.74" x 7.28" (6.4 x 14.6 x 18.5 cm) |
| Weight | 3.00 lbs (1.36 kg) |
| Operating Frequency | 1616 - 1626.5 MHz |
| Interfaces | Cellular and Wi-Fi Connectivity GPS/GNSS 2x Ethernet Interfaces Multiple ARINC 429 Tx/Rx Multiple RS-232 Multiple RS-485 4x Discreet I/O CAN Bus |
| Operating Temperature | -4°F to 131°F (-20°C to +55°C) ongoing -40°F to 158°F (-40°C to +70°C) short-term |
| Power Consumption | Customizable |
| Storage Capacity | Customizable |