Tyto Robotics, a leading developer of professional test equipment for UAVs (unmanned aerial vehicles) and drones, has partnered with Unmanned Systems Technology ("UST") to demonstrate their expertise in this field. The 'Silver' profile highlights how their drone motor and propeller test stands, along with their state-of-the-art wind tunnel testing technology, allow unmanned aircraft manufacturers to create highly optimized and efficient drone platforms.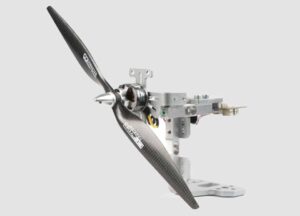 The Series 1585 is a professional test stand that allows you to measure and characterize anything you need to know about your drone's propulsion system, including thrust, torque, voltage, current, motor rotation speed, vibration, and efficiency.
With enhanced dynamic response, greater power capacity, and increased electrical noise immunity, it allows you to optimize flight time, payload and reliability for quadcopter, multirotor and fixed-wing drone designs.
The turnkey solution provides everything you need to begin testing right out of the box. It includes a built-in precision ohmmeter for motor winding resistance measurement, and features expansion ports for additional sensors such as temperature, airspeed and optical RPM probes. The included motor mounting plate allows you to test any small- to medium-sized brushless motors.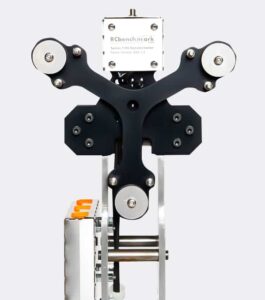 The Series 1780 is an ideal all-in-one solution for characterizing the propulsion systems large drones, allowing you to find the most efficient motor/propeller combination for your platform. The stand supports single or coaxial motor testing in several configurations, and comes in three different sizes (25, 40 and 75 kgf) to suit a range of testing needs.
The RCbenchmark Series 1780 can be used to test and characterize the efficiency of your propellers, optimizing diameter, pitch, and material. The 75 kgf variant allows you to test propellers up to 70 inches (1.70 meters) in diameter.
The test stand's load cell has been specially designed for brushless drone motor and propeller testing, with a mounting plate that supports all varieties of electric motors. The load cells have been mounted in a tripod configuration to maximize space and optimize aerodynamic properties, and can measure up to 75 kgf of thrust and 48 Nm of torque per propeller.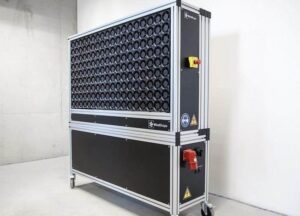 Tyto Robotics Windshapers are modular, scalable open air wind generators that are fully customizable to meet your testing needs. Based on blocks of nine fans measuring 10 by 10 inches, Windshapers allow you to easily perform free flight tests in your own lab.
The included software allows you to control each fan individually, simulating conditions found in the real world. Additional test capabilities can be added including weather effects, a motion capture system, or tilting mechanisms.
To find out more about Tyto Robotics and their professional test equipment for UAVs, please visit their profile page:
https://www.unmannedsystemstechnology.com/company/tyto-robotics/