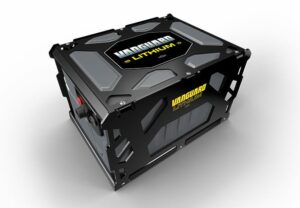 Vanguard has launched its new 10kWh Commercial Lithium-Ion Battery Pack, the largest power solution in the company's lithium-ion product family, providing up to 100 kWh of energy when 10 batteries are connected in parallel. The battery pack is ideal for heavy-duty UGVs (unmanned ground vehicles) and other robotic platforms.
Featuring a steel roll-cage design, the rugged 10kWh battery pack provides maximum protection and has been engineered to operate in harsh environments, including extreme temperatures, impact, vibration, moisture and dirt. The pack works seamlessly with Vanguard's Battery Management System (BMS) that monitors the pack's voltage and temperature, ensuring a durable solution that delivers reliable, efficient power and performance.
The battery pack features two customizable CANbus networks that integrate with legacy systems, and a prequalified and plug-in-ready sharing system can be mounted on- or off-board. These features allow simple integration with any equipment and provide the ability to service all components — allowing the battery pack to be repaired instead of replaced.
Paul Bramhall, Vanguard's director of marketing for the EMEA region, commented: "The addition of this larger size battery pack expands our lineup to ensure that all power needs can be met. The 10kWh Commercial Lithium-Ion Battery Pack features all the same benefits as the other roll cage battery packs, just with greater power potential."