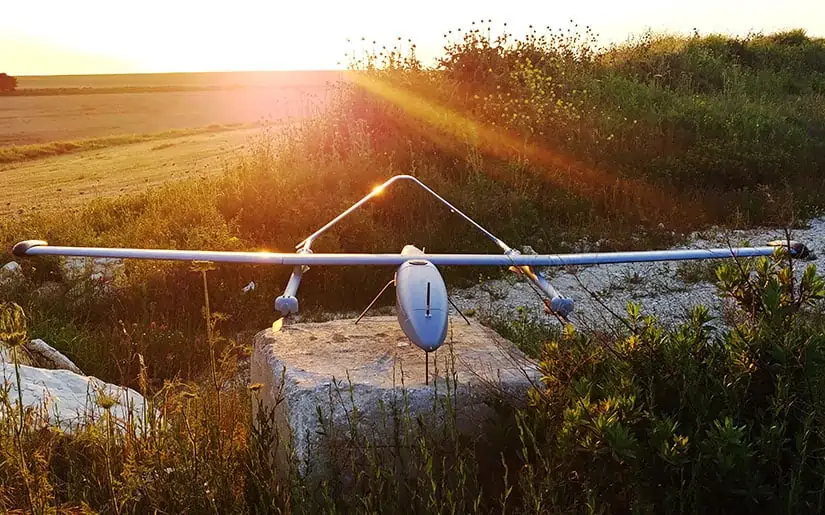 BlueBird Aero Systems has delivered a hundred of its WanderB-VTOL UAVs (unmanned aerial vehicles) to an unspecified customer in Europe. According to the company, the delivery, which is part of an order for over 150 WanderB-VTOL and ThunderB-VTOL UAVs, represents the largest number of VTOL (vertical takeoff and landing) UAVs ever delivered to any customer at one time.
The WanderB-VTOL is a hybrid fixed-wing UAV that provides high operational flexibility and combines the advantages of a fixed-wing platform with the benefits of a multirotor. It is designed for applications such as extended range ISTAR (Intelligence, Surveillance, Target Acquisition and Reconnaissance) operations and tactical photogrammetric mapping.
The transaction reflects a globally emerging trend of the usage of VTOL UAVs, which provide important benefits for land and maritime applications. IAI's 50% acquisition of BlueBird Aero Systems, which was recently approved by Israel's government, is tapping into the potential of this emerging trend. Over the past few years, BlueBird has developed several advanced VTOL platforms, and the asset and capability combination of IAI and BlueBird is expected to yield additional breakthrough operational solutions.
Moshe Levy, IAI EVP and General Manager of the Military Aircraft Division and incoming Chairman of the Board at BlueBird, commented: "I am excited to celebrate this important milestone. BlueBird is delivering a product providing a unique solution to the customer's operational challenges. I am confident BlueBird with IAI's collaboration will yield future transactions and lead to the development of more sophisticated tactical VTOL UAV systems."
Ronen Nadir, BlueBird's Founder and CEO, said: "BlueBird's VTOL systems provide vital intelligence and situational awareness in real-time to the end-user's infantry, armored units, artillery corps and special forces, serving as their 'eye in the sky,' effectively handling the challenged of the modern battlefield. The systems have been tested in extreme environmental conditions and comply with the end user's operational needs, providing them with significate operational advantages. Once again, our leadership in cutting edge VTOL solutions is setting the stage for next-generation tactical UAVs."