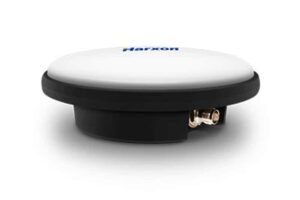 Harxon has introduced a new line of ruggedized GNSS antennas designed to meet the shock and vibration resistance requirements for applications such as UGVs (unmanned ground vehicles) operating in agricultural and construction environments. The product line includes the HX-CVX600A and HX-CVX603A antennas.
The new products incorporate Harxon's latest patented positioning antenna technology, supporting all constellations and full bands as well as L-Band correction services. Thanks to the company's advanced multi-point feeding technology, the antennas exhibit a very stable phase center with millimeter PCV repeatability, and provide high gain even at low elevation angles. A filtered LNA (low noise amplifier) minimizes out-of-band signal noises and improves the stability of signal reception.
In order to develop antennas for use in harsh environments, Harxon engineers systematically modified the structure of the antennas, prioritizing elements that could reduce shock and vibration input. They optimized the layouts of the antenna PCBs to reduce dynamic deflection, adopt a low profile, increase damping, and improve antenna reliability.
The upper cover of the new HX-CVX600A ruggedized GNSS antenna uses innovative material that provides low density, dimensional stability over a wide temperature, low warpage and excellent long-term weathering, without affecting the performance of GNSS signal reception. The bottom cover of the antenna employs a lightweight aluminium alloy ideal for applications subject to shock, vibration, extreme temperatures, rain, snow and sunlight. The housing features IP67 ingress protection rating.
Harxon strictly tests its ruggedized GNSS antennas against industrial standards by precisely simulating operational environments for ground vehicles used in precision agriculture, smart construction and mapping. Each unit is tested to comply with the shock and vibration requirements of military-level standards.