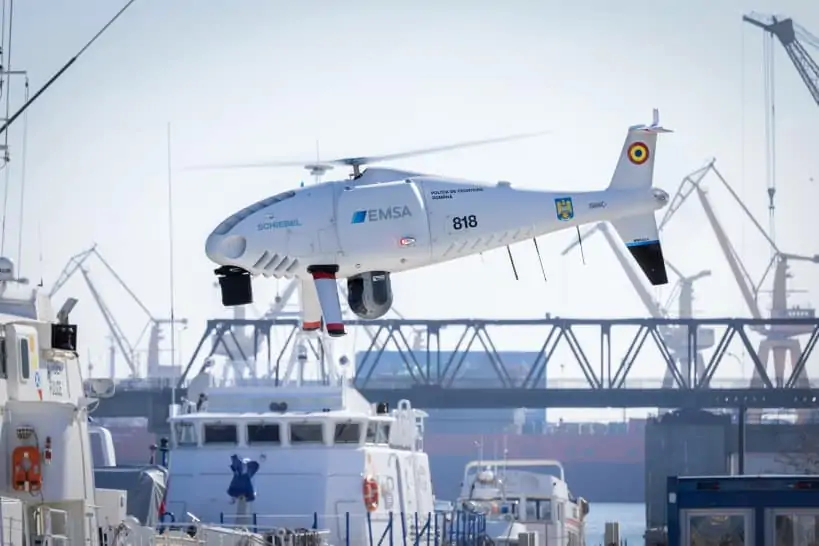 Schiebel's Vertical Takeoff and Landing (VTOL) CAMCOPTER S-100 UAS (unmanned aerial system) has been used by the Romanian Border Police to carry out maritime surveillance, under a service delivered by the European Maritime Safety Agency (EMSA). Schiebel was awarded a multi-year contract for the maritime surveillance service, which has also been extended to Bulgaria.
The UAS is stationed in Mangalia, and supports the Romanian authorities in carrying out general Coast Guard functions, including day-to-day monitoring and surveillance of all shipping, port security, and response to search and rescue, accident and disaster needs. The S-100 is equipped with an L3 Wescam Electro-Optical / Infra-Red (EO/IR) camera gimbal, an Overwatch Imaging PT-8 Oceanwatch, a Becker Avionics BD406 Emergency Beacon Locator and an Automatic Identification System (AIS) receiver.
Under this contract with the EMSA, Schiebel provides simultaneous maritime surveillance services to several EU member states and EU bodies. Most recently, the CAMCOPTER S-100 has been operational in France, Denmark, Finland and Croatia.
Hans Georg Schiebel, Chairman of the Schiebel Group, commented: "Once more, we are supporting local authorities with our 'eye in the sky'. The CAMCOPTER S-100 has proven its outstanding capabilities numerous times and we are proud to be working with EMSA on supporting EU member states with these vital tasks."