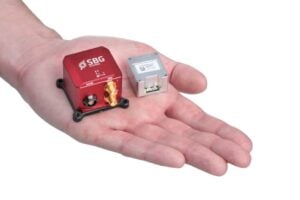 SBG Systems' Ellipse-D GNSS-aided INS (inertial navigation system) has been integrated with Cobham's Aviator UAV 200 terminal and compatibility between the two systems has been successfully tested.
Many modern drones are capable of flying beyond radio range at distances of several hundred kilometres, and a SATCOM terminal such as the Aviator UAV 200 is essential for seamless communications capabilities in the event that ground infrastructure cannot provide a continuous VHF link with the UAV.
The Ellipse-D is a dual-antenna GNSS-aided INS that provides the inertial data required for the SATCOM terminal's self-pointing phased array antenna to orient itself. The Ellipse-D's inertial measurement unit (IMU) provides high-accuracy roll, pitch, position and heading data, and the system's dual antennas ensure that the data is not affected by magnetic disturbances.
The combined units were tested by being installed on the roof of a truck, with the INS outputs being sent in real time to a PC as well as to the SATCOM terminal. The test results indicated that whenever the truck was moving, accelerating, or changing course, the antenna beam constantly followed the satellite, with a stable link.