Harxon has virtually released 5 new helix antennas during the "Precise Fly by Harxon" webinar. The new helix antennas are an addition to Harxon's antenna family for UAVs, increasing Harxon's capacity to serve flight solution integrators whilst offering comprehensive options with acute positioning accuracy, reliability, flexibility and easy integration.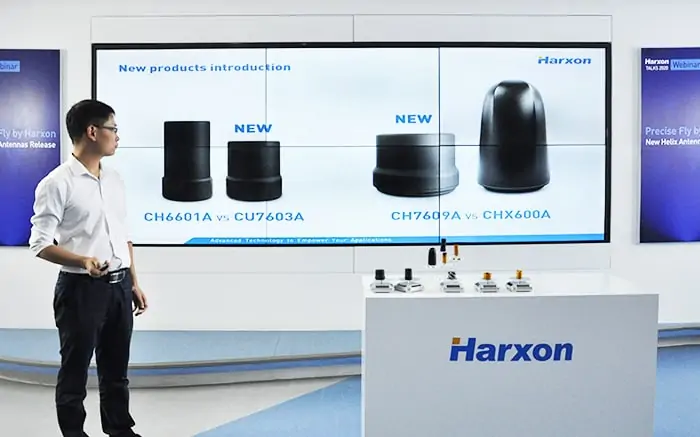 In the past few years, Harxon has continuously enlarged its positioning products for UAVs by releasing two generations of helix antennas that have been widely adopted by industry leading brands. This commitment to innovation and excellence continues with the official release of a 3rd generation of Helix antennas.
According to Harxon's GNSS antenna product manager, Mr. Leo Wang, comparing the first and the second antennas, the new generation impresses users with upgraded performance in 3 ways:
Firstly, the new generation antennas meet the requirements of UAVs which require smaller, lighter, more flexible, and easier to integrate GNSS antennas. The newly released model HX-CU7005, an embedded antenna, weighs only 8g, with a ¢30mm diameter and 34mm height. It adopts PCB compression installation, making it a quick option for adoption into flying vehicles.
Secondly, the newly released antennas power themselves by delivering consistent and reliable positioning performance. The new model, HX-CH7018A housed helix antenna, features a multi-point feeding technology for a high phase center stability with RTK level accuracy. It adopts Harxon's patented D-QHA technology capable of reaching 2.8dBi gain in the premise of wide frequency band, proving itself an indispensable partner for UAVs.
Thirdly, the new HX-CH7018A, HX-CH7609A and HX-CU7006A specifically optimize the circuit layout to improve the capability of anti-interference caused by mobile communication frequency bands, greatly improving the safety of flying vehicles. Plus, the exceptional low elevation signal tracking performance which Harxno's new generation helix antennas are capable of delivering, ensures secure, reliable and consistent performance even under challenging environments.