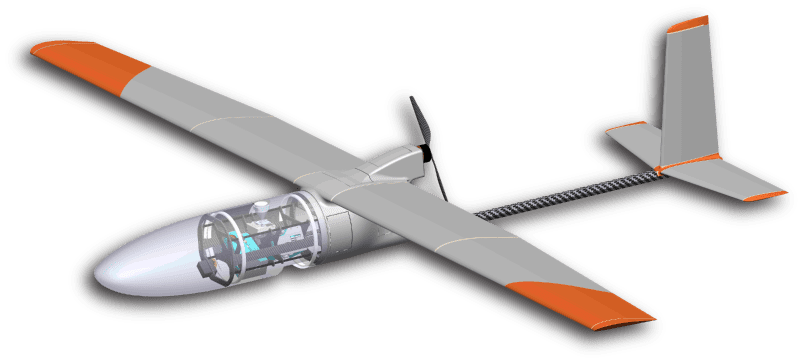 Black Swift Technologies (BST) has released a whitepaper outlining how the company's Black Swift S2 fixed-wing UAS (unmanned aerial system) has been used to create an environmental monitoring solution for the mapping of soil moisture, providing a useful enhancement to traditional satellite-based methods.
Read the full whitepaper on Black Swift Technologies' website
Accurate and rapid mapping of soil moisture, down to the scale of individual farms, is a useful tool for the conservation of water resources. NASA's Soil Moisture Active Passive (SMAP) project uses satellite technology to monitor drought, predict flooding, and assist in crop productivity. However, the nuances of the Earth's surface can easily be missed by satellite imaging. Obtaining additional high-resolution data would greatly improve NASA's ability to track soil moisture, and would also provide valuable data to agricultural professionals.
BST's UAS solution for gathering such soil moisture data is based around its fixed-wing Black Swift S2 airframe, and features a unique sensor payload designed to provide both spatial and temporal resolution for better understanding of the dynamics of soil drainage and moisture retention at typical root depths. The payload incorporates a passive microwave radiometer that provides full coverage soil moisture measurements over an area of up to 600 acres per flight. The sensor is tightly integrated with the UAS avionics and airframe, enabling the precise flight control needed for low altitude missions in the range of 15m-30m above ground level. This low altitude is required for the sensor to accurately map soil moisture down to 5cm in depth at up to a 15m resolution.
The payload was developed and tested under NASA's Small Business Innovation Research (SBIR) program, and BST has been working with several agriculture research groups and commercial entities to utilize the data gathered for reduction of water usage on farms. The data is also of interest to military users such as the U.S. Army Corps of Engineers, which currently makes use of soil moisture information to assess soil conditions for heavy vehicle tracking and aircraft landing operations.
To find out more about the Black Swift S2 fixed-wing UAS and high-resolution soil moisture data gathering, read the full whitepaper on Black Swift Technologies' website.