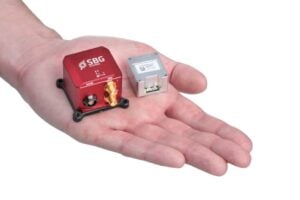 SBG Systems has released the third generation of the company's Ellipse Series of miniature inertial sensors, comprising four models: the Ellipse-A motion sensor, the Ellipse-E INS with external GNSS receiver capability, the Ellipse-N single antenna RTK GNSS/INS and the Ellipse-D dual-antenna RTK GNSS/INS.
The lightweight and robust sensors are ideal for unmanned systems such as UAVs (unmanned aerial vehicles) and UGVs (unmanned ground vehicles), with the choice of a rugged aluminium enclosure, or board-level units weighing just 17 grams for OEMs and system integrators. The low SWaP (size, weight and power) footprints of the new sensors mean that space and carrying capacity are saved, translating into longer mission times and further distances travelled.
All models now feature a 64-bit architecture, enabling more powerful high-precision signal processing algorithms and technology such as rejection filters and FIR (finite impulse response) filtering. All INS are now RTK-enabled as standard, and both GNSS/INS units now incorporate an embedded dual-frequency, quad-constellation GNSS receiver for centimetre-level positioning and improved orientation accuracy.
The Ellipse-D is particularly suited for drone applications, with its dual-frequency RTK GNSS receiver providing robust and almost instant heading for quick takeoff. It features excellent attitude (0.05°) and heading (0.2°) performance, and is immune to magnetic disturbances. The Ellipse-D is quad-constellation, allowing it to simultaneously track satellites from GPS, GLONASS, BeiDou, and Galileo for increased signal availability under challenging navigation conditions.
The Ellipse Series of inertial sensors has been designed with high quality industrial-grade components, extensively tested and calibrated under dynamic conditions and a wide range of temperatures for consistent and repeatable behaviour. Integration is quick and easy with ROS and PX4 drivers, and a full API.
Watch a video on the new generation of Ellipse inertial sensors below: