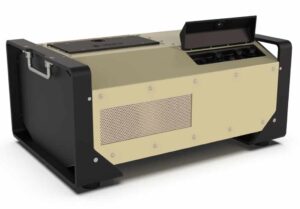 Elistair has released its newest and most advanced tethering station for commercial drones, the Safe-T 2. Providing improved power efficiency for safe and persistent UAV (unmanned aerial vehicle) operations, the new platform features a 125-metre (400 feet) micro-tether, 2.2 kW of continuous power, optional fiber optics, and patented Dynamic Voltage Optimization (DVO) for superior power-to-weight ratio.
The Safe-T 2 is the latest addition to Elistair's successful flagship Safe-T product line, which has been deployed in over 60 countries by governmental organisations, industrial groups, and security forces. To date, more than 600 of the company's tethered stations have been deployed around the world to aid security forces in missions such as large event monitoring, site security and asset protection.
The new tethered drone platform offers a secure Dual-Comms option with both fiber optic and broadband over power line (BPL), allowing users to either set up a redundant tethered data link, or to have the option of selecting which technology is best suited for the mission's particular drone and/or payload. A patented brake system also allows the user to change the maximal tether length, depending on the safety zone needed around the aircraft, for instance in urban or crowded environments. The Safe-T 2 integrates Elistair's live flight management system, with the T-monitor mobile app offering optimal flight control for safer operations.
The IP54-rated Safe-T 2 has been constructed with a rugged weather-resistant design for deployment in challenging environments. The compact modular metallic structure, mounting plates and optional software development kit (SDK) provide seamless integration into both vehicles and fixed structures, while being versatile enough to be deployed by a single operator. Interchangeable micro-tethers and smart adaptive winch control allow the operator to easily reconfigure the station to take advantage of the best tether weight/power range for different drones.
Timothée Penet, co-founder and Chief Technical Officer at Elistair, commented: "To design the Safe-T 2, we worked in close collaboration with our users who challenged us with their critical feedback. We rethought the entire solution in order to build the perfect tethering system for critical security operations. With up to 2.2 kW max continuous power and 2.8 kW peak power, the Safe-T 2 allows for higher flights with heavier payloads, thus enabling security forces to cover larger areas with a single system."
Watch a video introducing the new Safe-T 2 tethered drone station below: