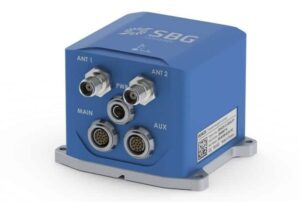 SBG Systems has announced that its Ekinox2-D dual antenna GNSS-aided inertial navigation system (GNSS-INS) has been selected by geoscientific solutions provider Cadden for integration into an unmanned surface vehicle (USV) that was used to conduct an autonomous bathymetric survey of the Loire river in Nantes, France.
The 1.6-meter-long OceanAlpha SL40 waterjet USV was equipped with a R2Sonic 2020 multibeam echosounder designed for shallow water hydrographic surveys, as well as a MiniSVS sound velocity sensor for enhanced survey accuracy, and the Ekinox2-D.
The Ekinox2-D GNSS-INS is a survey-grade system in a compact package with an integrated dual-antenna RTK heading GNSS receiver, delivering centimetre-level position accuracy. Data from this inertial sensor can also be post-processed with SBG's Qinertia PPK software to further improve results accuracy.
Watch a video of the demonstration below: