Hitec Commercial Solutions, a leading designer and manufacturer of actuators, as well as a supplier of fixed-wing, quadcopter and hybrid VTOL UAVs/drones, has partnered with Unmanned Systems Technology ("UST") to demonstrate their expertise in this field. The 'Gold' profile highlights how their products can be used for a wide variety of unmanned systems and robotics applications.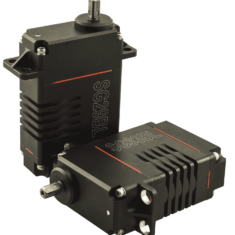 The HLS12 series of precision linear actuators features accurate repeatability and a range of versatile programmable functions in three different stroke lengths – 30mm, 50mm and 100mm.
The SG actuator series features high-performance brushless DC motors with the option of either steel or titanium gears. Encased with a rugged, IP67 rated anodized aluminium alloy casing, these actuators are capable of 360 degree proportional rotation and are ideal for a wide range of rotary applications within UAVs and robotic platforms.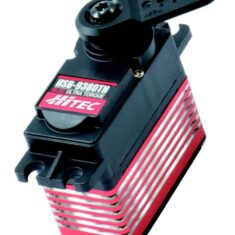 The Brushless Series of high-performance 20mm actuators for robotics and unmanned systems features programmable 12-bit PWM Digital Circuitry, low power consumption for energy efficiency, and constant torque output across the entire voltage range.
The MD Series of IP65-rated heavy-duty actuators for robotics and unmanned systems features high-resolution programmable 32-bit digital circuitry, magnetic encoder position sensors, and a wide variety of protocol capabilities including CAN Bus (2.0A or 2.0B), UAVCAN, RS-485, PWM & TTL.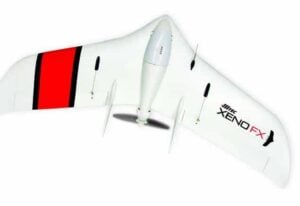 The Xeno FX is a proprietary fixed-wing UAV designed for highly efficient mapping, surveying and monitoring missions. Constructed from durable Multiplex Elapor foam, the collapsible modular system is easy to transport, setup and reconfigure.
Featuring fully autonomous flight, the Xeno FX drone can be programmed before launch with custom flight plans to ensure thorough, efficient coverage of the target area. A modular payload bay allows quick swapping of hardware for a variety of missions, including photogrammetry, precision agriculture and security.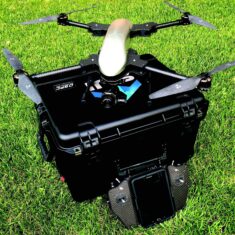 The SUI Endurance LT is a professional quadcopter drone built with a lightweight carbon fibre construction and featuring a modular payload bay for quick interchangeability and maximum mission flexibility.
The advanced autopilot capability and robust safety features allow users to seamlessly transition between manual and autonomous flight modes. With Hitec's Mission Control app, complete survey missions can be programmed from take-off to landing without any need for manual control.
Thanks to lithium ion smart batteries and optimised aerodynamic design, the SUI Endurance LT drone features an endurance of over 30 minutes, maximising area coverage with every flight.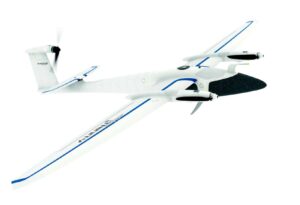 The Quantum Systems Trinity is a compact fixed-wing VTOL UAV precision engineered from Elapor foam and advanced composite materials. With its intuitive assembly and unique VTOL capabilities, it provides the ability to fly a wide range of aerial missions providing superior endurance and coverage.
The system includes inbuilt PPK and an iBase GNSS reference station for increased geotagging precision and improved data post-processing. Live air traffic information can be incorporated via support for the pingUSB dual-band ADS-B receiver.
The payload compartment can be 3D printed to fit custom configurations. Integrated payload packages include a Sony UMC-R10C 20.1 MP camera, a
Quantum Snap NIR-RED/GREEN Multi-Spectral Imaging System, and a combined payload.
To find out more about Hitec Commercial Solutions and their actuation technologies and UAV solutions, please visit their profile page:
https://www.unmannedsystemstechnology.com/company/hitec-commercial-solutions/