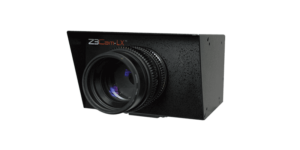 Z3 Technology, a developer of video encoding and camera solutions, has announced the launch of the Z3Cam-LX, a H.265 IP camera system designed for high performance in lowlight conditions. Ideal for unmanned aerial vehicles (UAVs) and other robotic platforms, the camera provides 4K Ultra-HD video streaming over Gigabit Ethernet networks and delivers color video in almost pitch black darkness of 0.004 Lux.
"Historically, lowlight imaging has been a challenge in UAV and other security environments. The Z3Cam-LX solves this problem by enabling efficient H.265 4Kp30 color video in almost pure darkness," Aaron Caldwell, CEO, Z3 Technology said. "This is a game changer for our customers who are monitoring their facilities 24/7."
Further enhancing the 4K camera, the Z3Cam-LX also features a 35mm full frame CMOS sensor, long exposure and high ISO noise reduction, interchangeable E-mount FE lenses and an additional composite input for a dual camera set-up with dual monitor viewing or picture-in-picture display.