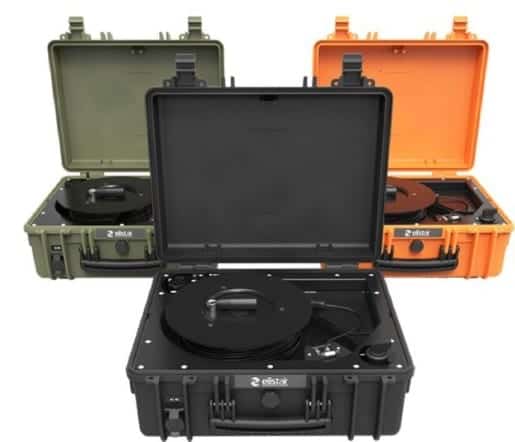 Elistair has announced the launch of Ligh-T V.3, the next-generation of the company's compact tethered drone stations. The new station will be unveiled at the XPONENTIAL 2018 trade show.
Expanding the company's line of tethering stations for drones and continuing to build upon the success of the Ligh-T V.2 and Safe-T products, the Ligh-T V.3. is compatible with over 20 of the most popular commercially available drones, including DJI M200, M210 and Inspire 2. It offers weather-proof capability, a secure datalink up to 200Mb/s and built-in Wi-Fi which allows connection to Elistair's smart monitoring application, T-Monitor.
Able to endure challenging weather conditions, Ligh-T V.3 is extremely compact and robust and designed for the most demanding of operating conditions. It is easily transportable, quick to deploy and provides continuous power for extended drone operations.
Weighing less than 12 kg and with a refined and simple design, Ligh-T V.3 can be carried by hand or in a backpack in order to ensure the operational readiness of the user, or it can be easily stored inside a vehicle. The quick setup makes it especially suitable for first responders in emergency situations. The Ligh-T V.3 has a user-friendly interface and can be operated by one person, without any specialized training.
Designed to endure and function in the most demanding of conditions, Ligh-T V.3 is IP65 compliant and can operate in extremes of temperatures or weather. It has been designed to accommodate the needs of Police Forces, Firefighters, Broadcasting Companies, Security Firms, Industrialists and Urban Engineering firms. It provides persistent aerial observation capacity for critical incidents, industrial inspections in restricted areas, crisis management, infrastructure protection, continuous live event broadcasting and traffic monitoring. Ruggedized, mobile and easy to deploy, it is also an ideal solution for large outdoor events where both security and persistence are required.
The Ligh-T V.3 micro-tether has been extended to 60-meters/200ft, it is Kevlar reinforced, weighs 630g/21 oz. and has a maximum power demand of 2500W. The compact air module, safety battery integration kit and waterproof ground station complete the system.