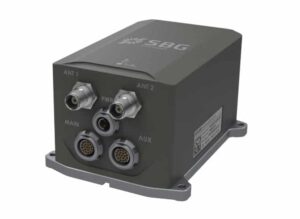 SBG Systems, a supplier of MEMS-based inertial motion sensing solutions, has announced the release of the Apogee series, the company's most accurate line of inertial navigation systems yet. Based on robust and cost-effective MEMS technology, these INS/GNSS systems integrate the latest generation of MEMS sensors and tri-frequency GNSS receivers.
The Apogee series achieves 0.008° in roll and pitch in real-time, and 0.005° in post-processing. With two antennas, it delivers a robust and accurate heading.
"SBG Systems manufactures inertial systems from concept to production. The Apogee benefits from our high level of expertise in integrated design, IMU calibration, testing, and filtering," declares Alexis Guinamard, CTO of SBG Systems.
Orientation and position data can be recorded in the Apogee data logger. Users are able to import data into post-processing software, which gives access to several RTK networks and reference station offline data (VRS, CORS, etc.). Additionally, it enhances orientation and position accuracy using a complete "backward/forward" calculation.
The Apogee series is comprised of four models. The Apogee-A provides only orientation data. The Apogee-N additionally embeds a GNSS receiver; it is a compact solution with one antenna for land and aerial applications. The Apogee-D embeds a dual antenna GNSS receiver for accurate heading under low dynamics conditions. Completing the line, the Apogee-E delivers navigation data when connected to an external GNSS receiver or to the SplitBox with integrated GNSS.