High Performance SDI500 Tactical Grade Quartz MEMS IMU Selected for Two Weapons Programs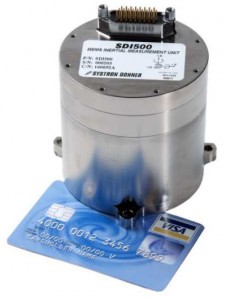 Systron Donner Inertial (SDI) has announced that its high performance, technically mature SDI500 tactical grade Quartz MEMS Inertial Measurement Unit has been selected for two weapons programs.
The SDI500 IMU is the core of SDI's COTS range; the industry's first and only MEMS-based IMU to deliver true tactical grade performance with 1º/hr. gyro bias across full temperature, class-leading 0.02º/√hr. angle random walk, solid < 1°/hr. in-run gyro bias and 1 mg accelerometer bias performance. The compact, low power, high quality SDI500 satisfied the stringent guidance and control requirements of the weapons programs better than any other IMU in the market today.
"SDI is thrilled and honored to be selected these weapons programs," said David Hoyh, Director Sales & Marketing for SDI. "SDI's mission for its maturing line of tactical grade products is to deliver superior full temperature inertial bias and noise performance in smaller, lighter, more reliable, cost-effective product solutions than traditional tactical grade technologies."
Sign up to our weekly newsletter to get articles like this sent directly to your inbox.
Visit the Systron Donner Inertial Company Profile