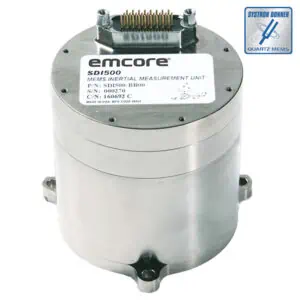 EMCORE Corporation is entering into a long-term supply partnership with Kratos Unmanned Aerial Systems to deliver SDI500, its flagship Quartz MEMS Inertial Measurement Units (IMU).
EMCORE's SDI500 is reportedly the only MEMS IMU capable of delivering true tactical-grade performance of 1.0°/hr gyro bias and 1 mg accel bias stability over a full temperature range from ­55 °C to +85 °C. 
The SDI500 was ranked 1st in overall accuracy in a U.S. Military-commissioned IMU trade study of 19 competing IMUs and the series has been awarded other significant contracts including the U.S. Navy's MK 48 heavyweight and MK 54 lightweight torpedo programs.
The delivery will benefit multiple advanced unmanned aerial defense programs, including the XQ-58 Valkyrie.
The Kratos XQ-58 Valkyrie is a stealthy, high-performance and low-cost unmanned combat aerial vehicle capable of long-range flights at high-subsonic speeds designed and built by Kratos originally for the U.S. Air Force's Low-Cost Attritable Strike Demonstrator program and now under contract with multiple DoD customers.
Representing a clean-sheet, low-cost tactical Unmanned Aerial System (UAS), the XQ-58 is changing the paradigm for tactical UAS technology.
In addition to the XQ-58 Valkyrie, EMCORE is entering into agreements with Kratos to supply SDI500 IMUs for the BQM-167A Air Force Subscale Aerial Target (AFSAT), the BQM-177A Sub-Sonic Aerial Target (SSAT), and the MQM-178 Firejet aerial target drone.
The BQM-167A is the subscale aerial target platform operated by the U.S. Air Force and provides aviators with realistic and comprehensive end-to-end weapons-release training.
The BQM-177A is the U.S. Navy's next-generation SSAT providing formidable threat emulation for air-to-air engagements and sea-skimming anti-ship cruise missile threats.
The MQM-178 Firejet fills a variety of end-to-end weapons-release training roles, including surface-to-air and air-to-air.
"We are extremely proud to enter into a long-term supply partnership with Kratos Unmanned Aerial Systems to support their mission-critical, unmanned aerial tactical and target defense systems for the U.S. Air Force and U.S. Navy," said Jeff Rittichier, EMCORE's President and CEO. "Our SDI500 IMU's high reliability and accuracy, even in challenging environments, combined with its established success in the market were key factors in being chosen for these important unmanned programs."
Steve Fendley, President of Kratos Unmanned Systems Division, said; "EMCORE has been a long-term key and dependable supplier helping enable our UAS to deliver the performance demanded by our military customers and users. 
"Evolving the relationship to partnership status demonstrates the confidence Kratos has in EMCORE's systems and enables our users to be confident in the long-term availability of this key enabling technology which is critical in this day and age of supply chain challenges. As we continue to grow and mature Kratos' family of systems, we look forward to continuing to design in EMCORE's solutions in our aircraft."