Uncrewed surface vehicles (USVs) are now a regular sight in our coastal waters, across energy, defence and ocean science. It's essential their navigational and situational awareness is ensured. In the case study below Sonardyne explains how robust USV navigation is ensured, even when traditional navigation aids drop out.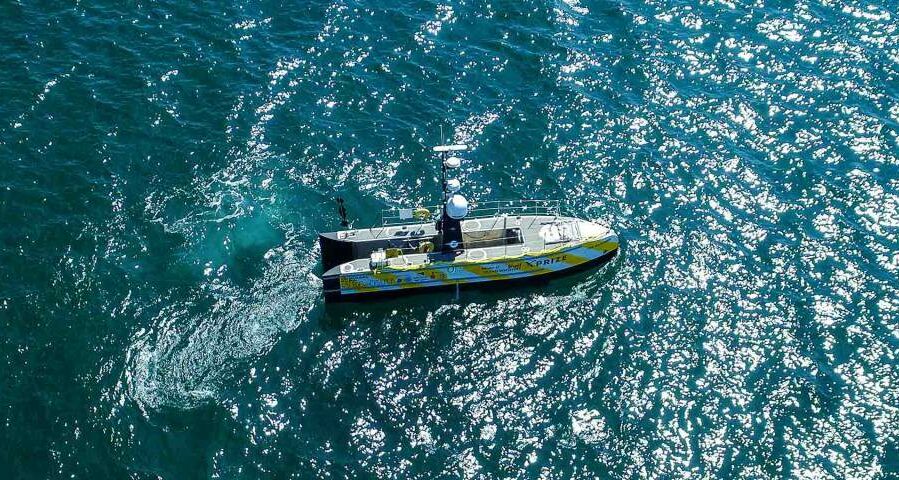 The challenge
Uncrewed surface vessels (USVs) are fast becoming a standard tool in the box across the defence, energy and science sectors. Whether it's for mine countermeasures or offshore wind farm site characterisation surveys, they're proving to be valuable, low footprint and low logistics platforms for an increasing array or operations.
But USVs rely on uninterrupted GPS or GNSS signal updates to inform their situational awareness, safe navigation and to reliably position any data they're gathering. Loss of satellite-based timing signals needed for navigation and positioning can occur in ports and harbours around tall structures or close to cliffs or inside fjords, where GPS or GNSS receivers may not have a clear line of sight with the sky. It can also happen in offshore wind farms and through deliberate signal jamming or degrading of performance, known as spoofing.
Plugging the gaps in USV navigation
When this is a risk, alternative navigation sensors and instruments must be considered – otherwise USVs need to be remotely piloted, adding expense and risk to over-the-horizon operations. This was a challenge identified by the UK's Defence Science and Technology Laboratory (Dstl).
Dstl saw a need to aid autonomous vehicle operations in challenging environments. So, via the UK's national Defence and Security Accelerator (DASA), the Autonomy in a Challenging Environments competition set out to address factors that affect the military effectiveness of current autonomous technologies – and we were one of the companies chosen to help solve this challenge.
The solution
We worked with USV manufacturer SEA-KIT to take sensors already used for unmanned and autonomous underwater vehicle (UUV/AUV) navigation and tested them on one of their USVs. Specifically, we took our market leading SPRINT-Nav hybrid inertial navigation instrument and integrated into a SEA-KIT X class USV. We then tested it against local real-time kinematic (RTK) GPS positioning.
Acoustic-inertial navigation, in one
SPRINT-Nav is already proven as a reliable navigation instrument for autonomous and uncrewed underwater vehicles (AUV/UUVs), which operate in what is effectively a GPS or GNSS denied environment.
It was designed to create a "best of all worlds"; an all-in-one acoustic-inertial sensor that replaces the need for a separate Doppler velocity log (DVL), pressure sensor and INS/AHRS, saving cost, cabling and integration challenges. By tightly integrating these separates, SPRINT-Nav delivers class-leading performance. With the addition of SPRINT-Nav Mini, that's also available in an even smaller and lighter package.
The results
The test environment for our SPRINT-Nav onboard the SEA-KIT X was in Plymouth Sound. This is a very busy marine environment. A USV without a reliable GPS signal is not only dead-in-the-water, it's also a danger to others. In addition, without reliable navigation its payloads will lack the situational awareness to be effective.
To test SPRINT-Nav in this environment, we planned a series of runs over different seafloors at different heights from the seafloor. In essence we tried to stress the sensors on board to observe if the system would perform to spec.
Stress testing SPRINT-Nav as a USV navigator
We ran these runs many times, but one particular run was a great example of the system's performance. This mission ran for more than 13 hours and covered 87 km. During the run, we had a lot of swell. Fortunately, because we integrate our SPRINT INS (complete with Honeywell ring laser gyro-based AHRS), with our Syrinx DVL in SPRINT-Nav, we were able to compensate for motions.
To give the system as difficult scenario as possible, we ran on an almost straight line as far away from port as possible. So, essentially, we are dead-reckoning for a prolonged period of time, without absolute references.
Success: <0.01% of distance travelled
The result? The peak error was below 0.01% of distance travelled when furthest from origin (30km away), rising to 0.016% over the 87km travelled. On the way back, we also ran a lawnmower pattern typical of mine countermeasure (MCM) missions or typical surveys. By integrating SPRINT-Nav onto a USV, we showed we can provide a continuous and resilient navigation solution in denied environments.
Since the trials, SPRINT-Nav and SPRINT-Nav Mini have both been selected for and integrated onto multiple additional USV platforms, including Ocean Infinity's Armada Fleet and a hybrid surface and underwater uncrewed platform.
*The competition Autonomy in a Dynamic World competition was funded through the MOD's Chief Scientific Adviser's Research Programme's Autonomy Incubator project that aims to: Identify and develop underpinning research and technologies to support the development and fielding of unmanned systems across defence which may be matured through the DSTL Autonomy Programme and other Research and Development programmes.