Overview
High Density Connectors
High Density Connectors & SWaP Constraints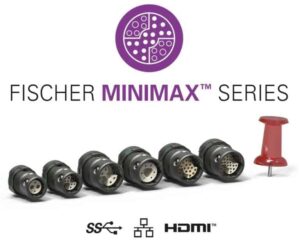 High-density connectors encapsulate a high number of contacts within a minimal footprint, creating a highly efficient form factor and reducing the overall number of connectors needed within a system. They are ideal for SWaP-constrained applications such as small unmanned aerial systems (sUAS) and other robotic platforms where space and weight are at a premium. High-density connectors are also useful for data acquisition applications with a large number of channels.
One way of specifying the density of a connector is by calculating the density factor. This is the diameter of the connector receptacle divided by the number of contacts – the lower the factor, the higher the contact density. Density is limited by the size of the contacts, which may need to be a minimum size for a particular application in order to handle a certain amount of current. Small contacts may also be too fragile for harsh environments such as military unmanned systems.
High density connectors may be rated to military specifications, including MIL-DTL-38999 for circular connectors and MIL-DTL-28804 for rectangular connectors. Connectors for rugged applications may also be IP-rated (IP64, IP67, IP68, IP69K) to protect against dust and water ingress to various levels.
Refine
Connection/Locking System