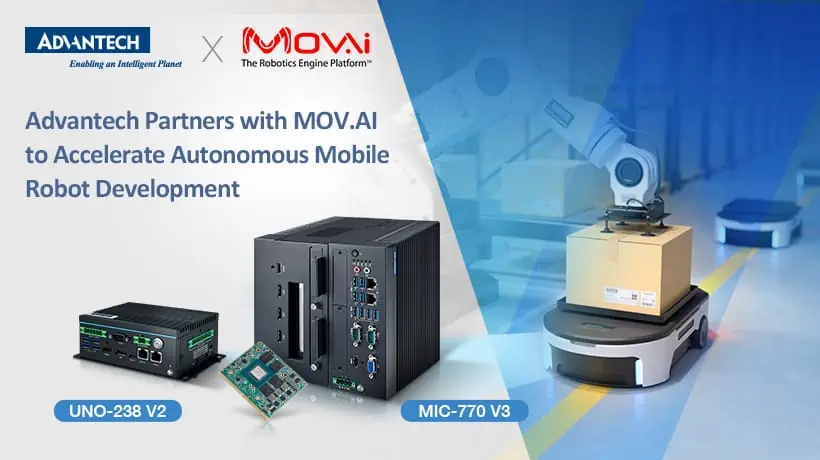 Advantech is partnering with MOV.AI to accelerate the development and deployment of Autonomous Mobile Robots (AMRs).
The goal is to simplify the creation of AMRs by providing robot manufacturers and integrators access to both cutting-edge industrial computing technology and a powerful software platform for building, deploying, and running intelligent robots.
This collaboration provides a solution to address the growing need for faster time-to-value, flexibility, improved efficiency, and higher productivity in manufacturing and logistics.
The MOV.AI ROS-based Robotics Engine PlatformTM provides AMR manufacturers and automation integrators with the necessary enterprise-grade software and tools for advanced automation, including navigation, localization, and calibration. The platform features a visual Integrated Development Environment (IDE) based on ROS, as well as off-the-shelf algorithms and integrations. Additionally, the platform offers interoperable fleet management, flexible interfaces with warehouse environments such as ERP and WMS, and cyber-security compliance.
Advantech and MOV.AI are speeding up the time it takes for service providers and manufacturers to deploy the most effective AMR solutions for a wide variety of applications. Advantech will contribute its competencies in hardware design and manufacturing, while MOV.AI will contribute its expertise in ROS-based software. This collaboration will expedite the AMR time-to-value, resulting in quicker and more efficient deployment.
"Advantech is excited to cooperate with MOV.AI and we look forward to providing an advanced state-of-the-art AGV/AMR solution in the robotics segment worldwide," said David Jen, Associate Vice President of Advantech's Industrial IoT Group. "The key aspect of our collaboration is to ensure the interoperability of AMR ecosystem offerings and provide more comprehensive solutions to our customers."
"The growing demand for automation creates a need for secure interoperable systems that can be easily deployed and easily adapted to changing business needs," added Motti Kushnir, MOV.AI CEO. "We are excited about the collaboration with Advantech, as it provides our customers with comprehensive solutions that fit into a wider automation environment, providing continuing high value."