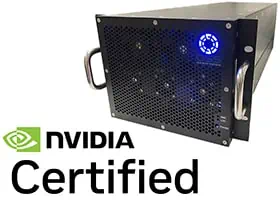 One Stop Systems, Inc. (OSS) has received NVIDIA systems certification for its OSS Rigel Edge Supercomputer.
The Rigel system was thoroughly tested by OSS and evaluated by NVIDIA to ensure it met the NVIDIA-Certified standard for performance, functionality, scalability and security.
According to OSS, Rigel is the only edge-certified AI system using four of NVIDIA's powerful GPUs based upon the NVIDIA HGX A100 platform.
NVIDIA believes accelerated applications are transforming enterprise computing. Enterprises today need a computing infrastructure that provides the performance, reliability, and scalability to deliver cutting-edge products and services, while increasing operational efficiencies. NVIDIA-Certified Systems enable enterprises to confidently deploy hardware solutions that securely and optimally run their modern accelerated workloads—from desktop to data center to edge.
"This highly valued NVIDIA certification for Rigel advances our sales process with key prospects by providing our customers with piece of mind that their AI applications that are based on any NVIDIA-supported framework will operate at the edge—inside land, sea and air vehicles—with similar results to what they expect in the data center," said OSS chief product officer, Jim Ison. "It reaffirms our exceptional AI workflow performance and the unmatched value we deliver for our customers who demand 'performance without compromise' in rugged applications."
At XPONENTIAL 2023, OSS showcased its range of specialized high-performance AI computing solutions, including customized edge servers, compute accelerators, flash storage arrays and expansion systems that are being deployed today, in vehicles at the edge. OSS also demonstrated its unique expertise in high-speed PCIe interconnect and scalable GPU compute systems that are required by the most demanding autonomous applications.
Find suppliers and manufacturers of embedded computing solutions for unmanned and autonomous applications>>