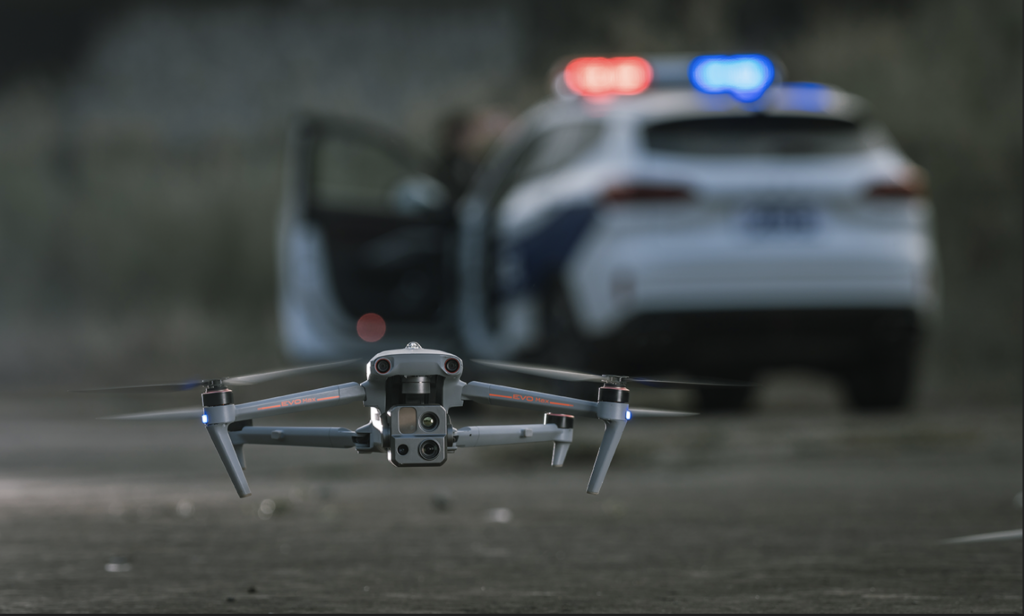 Autel Robotics is showcasing the EVO Max 4T drone and a range of new accessories, including drone-in-a-box support systems the EVO NEST and Dragonfish NEST, at CES 2023, in the Las Vegas Convention Center, 5th-8th January 2023.
The EVO Max 4T is an intelligent quadcopter platform with advanced autonomous flight technology and AI features to provide powerful self-reliance and navigation capabilities. Omnidirectional obstacle avoidance and tri-anti interference capability (RFI/EMI/GPS) ensure flight safety and stability in high-interference environments like urban areas.
The versatile payload bay allows for a variety of sensors to be used for a wide range of applications whilst the Enterprise App is specifically designed to revolutionize the cooperation between drones and pilots.
The EVO Max 4T can perform multiple semi-autonomous flight missions, autonomous pathfinding, live streaming, and target acquisition, and also includes various smart accessibility features.
Potential applications for the EVO Max 4T include search and rescue, firefighting support, mapping, and inspection.
With intelligent, high-quality imaging the EVO Max 4T is equipped with three high-quality cameras:
48MP telephoto camera with 10x Optical Zoom, 160x digital zoom, and a 1/2″ CMOS sensor;
50MP wide-angle camera with a 1/1.28″ CMOS sensor and 3840×2160 video resolution;
Infrared camera with a 640×512 resolution and 1.2km ranging distance.
The EVO Max 4T also has a range of intelligent navigation and data acquisition functions, including 3D flight routes, PinPoint Mode, Team Work, Polygon Mission, Waypoint Mission, and Oblique Photography.
In addition to the EVO Max 4T, Autel is releasing the Dragonfish NEST and the EVO NEST.
Dragonfish NEST – According to Autel the Dragonfish Nest is the world's first automated eVTOL support system. With a range of up to 75 miles between units, the Dragonfish NEST combines the high performance of the Dragonfish aircraft with autonomous takeoff, landing, charging, and flight missions. The Dragonfish NEST is perfect for long-range corridor inspections and large area coverage.
EVO NEST – The EVO NEST is a base for automatic take-off, landing, charging, and mission planning for EVO series drones. It is designed for all-weather operation and can be easily transported in a standard pickup truck.
The EVO NEST and the Dragonfish NEST are powered by the SkyCommand Center software. Autel is also releasing a range of accessories, including the Dragonfish Repeater and Autel Smart Antenna Transmission (ASAT) System.
Find suppliers & manufacturers of Quadcopter unmanned aerial systems >>