Aerobits has announced the certification of the TT-SC1 series of miniature ADS-B receivers for OEMs.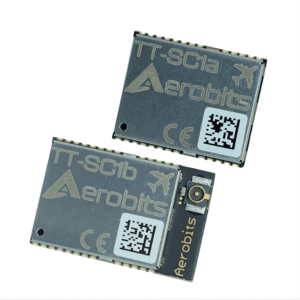 The TT-SC1 series are high performance OEM Mode -A/-C/-S and ADS-B receivers operating at 1090MHz. The patented FPGA-In-The_Loop™ technology allows high-speed RF data processing with a significantly reduced number of electronic components.
The miniaturized OEM modules are suited to a wide range of applications within the unmanned sector, including; SAA / DAA (Sense and Avoid / Detect and Avoid), UAS collision avoidance systems, UTM (unmanned traffic management), early warning devices for UAS operators, and ADS-B In devices that meet the NextGen / SESAR philosophy.
TT-SC1a, TT-SC1b and TT-SC1a-Ext, TT-SC1b-Ext conform to the following specification requirements:
ETSI EN 303 213-5-1 VI.1.1 – Advanced Surface Movement Guidance and Control System (A-SMGCS); Part 5: Harmonized Standard for access to radio spectrum for Multilateration (MLAT) equipment; Sub-part 1: Receivers and Interrogators
PN-EN 61000-4-3:2007 + Al:2008 + A2:2011 + IS:2009 (EN 61000-4-3:2006 + A 1:2008 + A2:2010 + IS:2009)- Electromagnetic compatibility (EMC) – Part 4-3
PN-EN 55016-2-3:2017-06 + A 1:2020 (EN 55016-2-3:2017 + Al:2019) – Specification for radio disturbance and immunity measuring apparatus and methods – Part 2-3
PN-EN 55011:2016-05 + Al:2017-06 (EN 55011:2016 + Al:2017) – Industrial, scientific and medical equipment – Radio-frequency disturbance characteristics
PN-EN 62321-3-1:2014-08 – RoHS