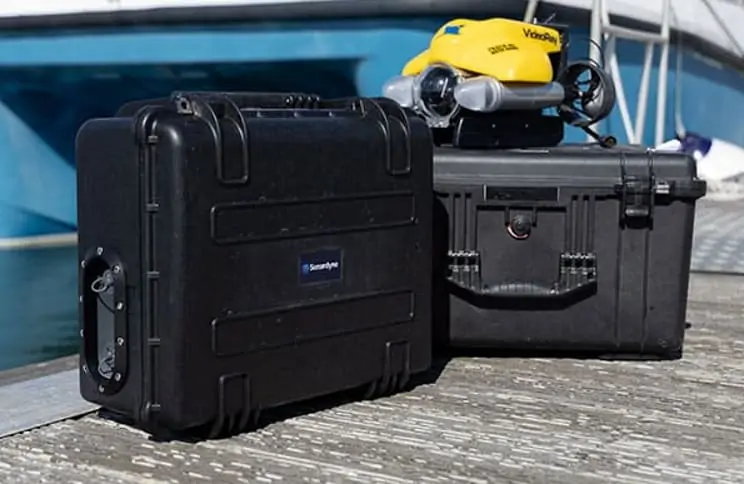 Sonardyne has launched a new portable configuration of its Micro-Ranger 2 shallow-water Ultra-Short BaseLine (USBL) system, providing everything in one box needed to track subsea assets such as remotely operated vehicles (ROVs) and autonomous underwater vehicles (AUVs).
The one-box USBL solution is able to track up to 10 targets out to 995 m. The kit includes a Micro-Ranger Transceiver (MRT) with 10 m of cable, a GNSS antenna with 5 m of cable, and two Nano transponders and command hub. The included transponders are Sonardyne's recently introduced second generation model, providing extended battery life and depth rating, and are ideal for micro ROVs. A connector-equipped Nano is also available that can operate continuously via an external power source.
To get started, users only need to connect their laptop running the Ranger 2 software to the case via Wi-Fi, put the MRT in the water, connect the antenna, and fit a Nano to each target. According to Sonardyne, even first-time operators can expect to be up and running in around 30 minutes.
A Micro-Ranger 2 integrator system kit is available for AUV developers wishing to trial new ideas and capabilities such as swarm operations. The kit includes Sonardyne's add-on Marine Robotics software pack and AvTrak 6 Nanos, which support two-way messaging, vehicle control and tracking in one small instrument.
Micro-Ranger 2 is ideal for supporting shallow water operations in offshore wind, including seabed instrument positioning and release. Built with the same Wideband-2 signal architecture and 6G hardware as Sonardyne's Ranger 2 family, it is also fully compatible with the company's Release Transponder 6 range (RT 6). It also suits quick mobilisation for underwater inspections using small ROVs.
John Houlder, USBL product line manager at Sonardyne, commented: "Whether you're looking for flexibility, ease of use, or convenience, Micro-Ranger 2 is the ideal solution. It's a smaller, lighter and more complete portable system than anything else on the market. It's export-licence free and is engineered to be safely carried on passenger aircraft. Then, when you get to where you're working; a quayside to track an ROV, a RIB for tracking divers or a small boat to track and control your AUV, just turn it on, connect to the control hub with your laptop and away you go."