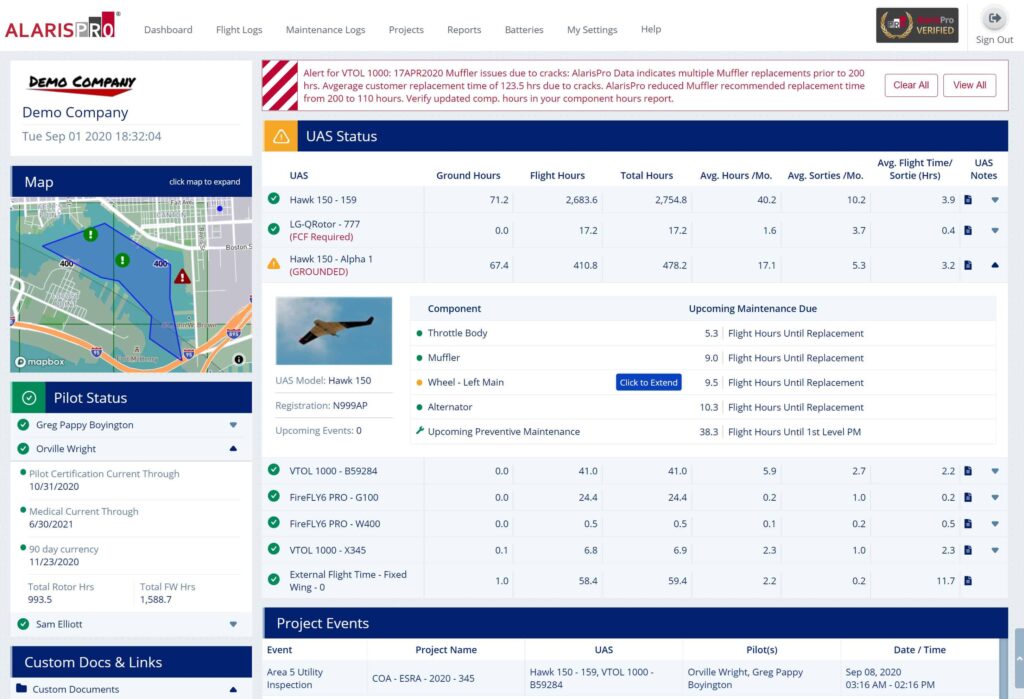 AlarisPro has been selected as a finalist for the Association for Unmanned Vehicle Systems International's (AUVSI) 2021 XCELLENCE Awards, the winners of which will be announced at the AUVSI XPONENTIAL conference taking place from August 16-19. The software as a service (SaaS) provider has been selected from a pool of applicants as a finalist in the Enterprise Solution Deployment and Service Provider category. The awards honour innovators that demonstrate commitment to advancing autonomy and promoting the safe adoption of unmanned systems, and developing programs that use these technologies to save lives and improve safety.
AlarisPro is an unmanned aerial systems (UAS) fleet management software platform that provides operators and manufacturers with a comprehensive solution for all aspects of UAS operations and maintenance documentation. The software provides essential safety assurance to support routine expanded operations beyond the restrictions of the FAA's Part 107, which will ultimately lay the foundation for fully autonomous flights.
The platform is ideally suited for UAS operators and manufacturers scaling up towards expanded operations such as Beyond Visual Line of Sight (BVLOS), Type Certification, and Part 135 Operations. AlarisPro's unique safety ecosystem provides rapid communication of service bulletins, airworthiness directives, maintenance inspection changes and procedural changes. The cloud-based system allows all users to instantly access the latest information on any device that has an internet browser.
Brian Doherty, Account Executive at AlarisPro, commented: "It's an honor for AlarisPro to be named among the finalists for this prestigious award. Providing a single source solution for safe and reliable unmanned operations is our core mission. Our software bridges the gap for operators and manufacturers enabling the collection of key system reliability data necessary to develop safety cases for expanded operations."
Brian Wynne, President and CEO of AUVSI, said: "During the last year, the unmanned systems industry rose to meet urgent new challenges posed by the pandemic. It is inspiring to see organizations and companies that led this charge among the XCELLENCE Awards finalists. As unmanned systems become increasingly integrated within our society, AUVSI is pleased to recognize this distinguished group for their innovative work that will accelerate our industry forward toward assured autonomy."