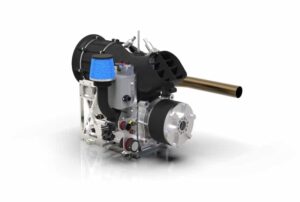 Sky Power has launched the SP-55 FI TS, an efficient hybrid single-cylinder engine designed to generate electricity for electric-propulsion UAS (unmanned aerial systems) and equipped with twin spark plugs and fuel injection. The new engine can generate a maximum power of 2 kW at 50 VDC.
The SP-55 FI TS incorporates a brushless DC motor for power generation, and uses Sky Power's new lightweight SGC 352 starter generator control system as well as the company's HKZ215 high-performance ignition system, resulting in improved exhaust emission levels. An integrated cooling system has been developed that cools the entire unit.
The generator is mounted on the rear output shaft, and the engine itself sits in a sturdy aluminium frame, with the fuel injection, engine control, temperature control and air supply systems located on the side of the engine. All components have been positioned to make the SP-55 FI TS highly compact and ideal for UAVs.
Karsten Schudt, managing partner of Sky Power, commented: "The SP-55 FI TS hybrid is the first two-stroke engine built by our company that was developed to generate only electrical energy. For UAVs, the benefits of such a generator solution are obvious. The combustion engine can extend the range or flight time as well as ensure the transport of heavy loads."